October 7, 2010 at 9:41 a.m.
Chisago Lakes Superintendent brings referendum issues to the public, answers questions about funding and budget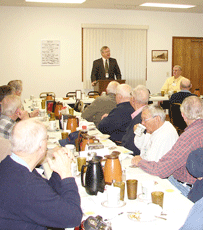 ---
The Christian men's group breakfast session Tuesday in Center City at the Swedish Village Mall, featured a presentation by Chisago Lakes School Superintendent Mike McLoughlin.

The superintendent spoke about the November ballot that will be asking school district voters to support two 'yes or no' questions.

The district asks to continue a property tax levy that's due to expire, and to increase funding to avoid an approximately $1 million shortfall expected due to frozen or delayed state pupil funding.

Question One must be authorized by a majority in order for the second funding authorization to be approved. "If you can only support one, vote for the first question," the group was advised.

Supt. McLoughlin told the audience that if the revenue isn't authorized the school district "...could look very different" from the one existing. He said he speaks for the students, who can not advocate for their own education needs.

McLoughlin referenced the importance any local school system has on property values. He spoke of the role the school district plays as an "economic engine" bringing visitors to the area for sports and activities, and that it's employing over 400 people.

McLoughlin said the state Constitution requires public education as a duty of the state but more and more this duty has been passed-off to local taxpayers.

There were questions from the audience about charter schools and Supt. McLoughlin said the charter sponsored by Chisago Lakes, "Wolf Creek" does not receive the ballot-approved funding. Charter schools receive the basic state funding under the formula. Charter schools do not usually provide extra-curricular and athletic opportunities, or support facilities. Wolf Creek, based in Chisago City, actually contracts services like payroll from Chisago Lakes staff, and reimburses the district for the services.

McLoughlin said Wolf Creek provides distance (Internet) learning educational opportunities that are needed, and Chisago Lakes is "proud of the work" being done, but it's not really affected by the referendum.

Community Education was also asked about.

The community education department stands alone and has a small budget (about $1 million levy based on population.) The fees for the Community Education classes and ECFE sessions sustain most of this department.

McLoughlin asked the breakfast attendees to "make the distinction" between Chisago Lakes and other failing or poorly functioning districts in-the-news. He said Chisago Lakes is ranked highly among state systems, and is graduating 95 percent. The district needs to maintain funding in order to not become one of the declining systems.


---
September
SUN
MON
TUE
WED
THU
FRI
SAT
Today's Events
No calendar events have been scheduled for today.
September
SUN
MON
TUE
WED
THU
FRI
SAT
Today's Events
No calendar events have been scheduled for today.