August 11, 2011 at 8:28 a.m.
County commissioners approve subsidy for Peterson Companies, Wyoming city officials asked to keep working towards a deal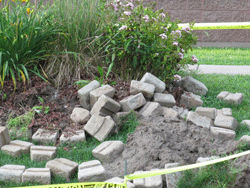 ---
The County Board was assured by Wyoming officials last week that despite Wyoming City Council's vote to not participate in a tax subsidy for Peterson Companies-- the city is still open to cooperating.

Council member Linda Nanko-Yeager, and Jerry Owens of the city's Economic Development Authority, told the county commissioners at a public hearing last week that Wyoming would "...love to work out" an agreement for some level of tax abatement for Peterson's new building on 7.5 acres, on Wyoming Trail.

Chisago City Administrator John Pechman stated this project is down to its final hour and "Chisago City hopes you approve this (tax abatement.)"

Peterson Companies hopes to construct the new facility this fall, to replace one that burned several months ago. The heavy equipment contractor and landscaping firm has operated out of Columbus, temporarily this summer.

Commissioner Ben Montzka observed that if Peterson was newly locating in Chisago County "we'd be salivating" over this package and officials need to do whatever they can to bring this business back to the county.

A motion to adopt the basic abatement plan passed 5-0 contingent on Wyoming continuing to negotiate and eventually, participate.

Chisago City and Wyoming were both asked to adopt the business subsidy plan that captures annual property taxes and directs the funds to repay development costs, over 10 years. The Peterson property straddles the border of the two, with the majority of the taxable parcel in Wyoming.

In return for a maximum of $144,000 in taxes being re-directed into the project redevelopment costs, Peterson agrees to create five full-time positions annually for the life of the package.

The new building is expected to be valued at $845,400, which at the end of 10 years (proposed) of abatement the full taxable amount is deposited into the government units' general funds. Taxes being re-directed are the estimated increase in new building value compared to the burned facility value. Wyoming is estimated at $6,000 annually as its abatement, Chisago City's is $4,000 and Chisago County re-directs $8,000 annually.

Chisago County HRA/EDA Director Chris Eng said negotiations to bring the city of Wyoming on-board will move as quickly as possible and Peterson's construction timeframe should stay on schedule.

Center City project

On the Smith Metals development plan for the County Seat Business Park, in Center City, the Board voted 5-0 to keep this moving forward.

Smith Metals in Lindstrom is building a $3.3 million manufacturing facility at the county-owned commercial/industrial campus, where the new 9-1-1 communications and central dispatch center is also under construction.

The county is selling several lots for $1 which amounts to a subsidy of $365,000 for the improved land and is facilitating an application for a state economic development loan for equipment for the new plant.

The bill for the land is coming to the county paid as captured tax over 10 years. If the company doesn't meet wage and job goals described in the agreement the county gets paid outright for the land.

The agreement is that Smith Metals will maintain 18 current positions and create eight additional jobs, at not less than $12 an hour plus benefits, and the jobs will be created within three years of signing this agreement.

Center City is also being asked to give up $12,000 in taxes annually for 10 years which goes into costs of developing this project site.

Finally: the Board approved advertising an opening on the Comfort Lake-Forest Lake Watershed District Board of Managers. The group meets in Forest Lake and its territory basically lies in the southwest corner of the county.

This is an at-large opening. See county commissioners Montzka or McMahon, check the website co.chisago.mn.us or contact county administration.

The contract for reconditioning of County Road 12, from Hwy. 95 to #81 was awarded to Knife River for $1.7 million. The "state park road account" is assisting on the first million of the project. Three bids were received, the county engineer reported.


---
December
SUN
MON
TUE
WED
THU
FRI
SAT
Today's Events
No calendar events have been scheduled for today.
December
SUN
MON
TUE
WED
THU
FRI
SAT
Today's Events
No calendar events have been scheduled for today.