January 6, 2011 at 8:31 a.m.
County Board special session
Deputies opt for larger health care deductiable in exchange for small salary increase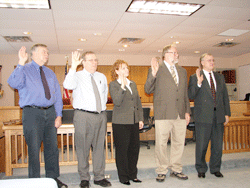 ---
The Chisago County Deputy Labor Agreement was accepted by the county commissioners meeting in special session last week. The vote was 5-0.

County Administrator John Moosey explained that the group was prepared to go to arbitration and he recommended action on this contract, that's been in negotiations for some 18 months. He also commended Chair Rick Greene and Commissioner Lora Walker for their work on pulling together a contract.

Moosey added that in this case, the union agreement doesn't go out to 2012 like the other union contracts the Board has adopted, but otherwise it is "similar."

Also-- the deputy group is getting an extra half-percent hike in wages in 2011 from the other contracts but has agreed to raising the medical deductibles. The half-percent will cost about $9,400 versus an $18,000 savings in healthcare costs, according to Renee Kirchner, Human Resources. Moosey also said other bargaining groups will be offered the healthcare revision in exchange for the half-percent in wages package "to be consistent" but in the past, other groups weren't interested in this approach, he concluded.

All other non-bargaining units at the county were approved for a 2 percent hike in 2011. Also a unanimous vote.

Commissioner Mike Robinson questioned the earlier action by the Board freezing wages for elected officials in 2011 and asked if their 2 percent wage hike was budgeted for next year or not, and asked, "what happened?"

Commissioner Ben Montzka noted that Robinson voted in favor of the frozen elected officials' wages in another meeting, and if he had questions he could have pursued the issue earlier. Robinson responded that he just was asking what happened.

Moosey said department heads (three of whom are elected) opted to reach their 2011 departmental budget restrictions by not taking raises. Moosey added that he too, is not taking a wage raise for 2011. Commissioner George McMahon added that he was under the impression in budget committee meetings that the elected officials were willing to "make sacrifices" to meet budget goals and they stated as much in the budget review process.

The Board also approved a contract to do payroll for the Soil and Water Conservation District; and approved an exempt permit raffle for the Wild River Chapter of Minn. Deer Hunters Assoc. and they accepted the re-cap on radio upgrade related contracts, that have been paid administratively in the last few months -- for information purposes.

Commissioners thanked Rick Greene for his service as chair of the Board in 2010. They were scheduled to meet to do organizational actions Jan. 4. (See followup story.)


---
June
SUN
MON
TUE
WED
THU
FRI
SAT
Today's Events
No calendar events have been scheduled for today.
June
SUN
MON
TUE
WED
THU
FRI
SAT
Today's Events
No calendar events have been scheduled for today.