January 13, 2011 at 9:32 a.m.
Vikings earn first winning streak with two wins vs SF and Central
Back-to-back 20-point games by Kendra Norman fuel North Branch to their first NSC win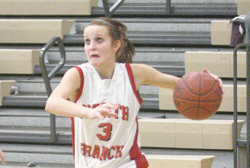 ---
Robbinsdale Cooper 54, North Branch 45

Despite being even at halftime, the North Branch girls basketball team let things get away from them late in the second half as the Cooper Hawks pulled away with a nine point victory at home.

The North Suburban Conference match up featured two teams in a slight funk as North Branch had lost two in a row coming into the game and Cooper had dropped three of four.

After an evenly matched first half in which the teams were locked at 26-26 going into the locker rooms, North Branch ended up coming up just short.

"It was a good game overall, but we just need to be more consistent scoring to beat some of the really good teams that we face," Head Coach Dan Schindler said after the Vikings' third conference loss of the season. "We had the game tied at halftime, but lost our starting center Sarah Lekson due to injury."

That loss hurt the Vikings as they tried to match up with the Hawks, and Cooper was able to take advantage. But, the biggest problem the Vikings faced on the night was their inability to make free throws. North Branch missed 16 shots from the charity stripe, and they just couldn't recover from the poor shooting. "Free throws can either win or lose games, and this time it went against us," Schindler explained. "It seems like the games where we can make at least 70 percent of our free throws we win."

For the game North Branch was only 13-of-29 from the line.

Cassedy Coleman and Erin Reber led the Vikings with nine points each, Haley Huset and Kendra Norman chipped in seven points. "

North Branch 56, St. Francis 52

After three straight years of 24 or more wins, the Fighting Saints have fallen on hard times this year, as they hosted North Branch sporting only a 2-8 record.

Although Lekson was still out because of her injury from the Cooper game, the Vikings were able to grab a five point lead at halftime and they held off the Saints.

Schindler called it the Vikings' "best game of the season", despite not having Lekson in his rotation. "I was extremely pleased with our team's effort against St. Francis," he said. We were a little short handed without Sarah, but the girls really stepped up their game."

The biggest difference, according to Schindler, was that the girls looked to score when they got the basketball in their hands. He thought they've been too tentative so far on offense, but against St. Francis, his team forced the action and charged to the rim often.

Despite some close games slipping away from North Branch this year late in the game, they were able to hang on in this contest. "We stayed really focused this game to make sure that would not happen again," he said, referring to a late-game collapse. "Kendra iced the game for North Branch making a couple of key free throws. This game should be a big confidence builder for us.

Norman and Annette Olson led the way for the rejuvenated Vikings. Olson had 15 points and 10 rebounds for the Vikes, and Norman scored 22 points, a season high for her.

North Branch 59, Duluth Central 46

Schindler figured it might be a little bit of a slow start for his road-weary troops. After closing out St. Francis on the road on Friday night, the Vikings had an early wake up call, as they had to climb on the bus and head to Duluth for a Saturday afternoon game against the Central Trojans.

"It was not the best first half for us. We seemed be a step slow in our defense and missed some real easy shots," Schindler said. "But, we hung in there and only trailed by one at the half."

With their bodies fully functional and their heads cleared of any grogginess, the Lady Vikings came out firing on all cylinders in the second half. Reber especially stepped it up, scoring 14 of her 16 points in the second half.

The defense really locked it down, as Schindler commended Kallie Grote, Coleman, Chelsea Tollberg, Huset and Olson for playing well together as a unit on defense. "We have been working extremely hard, and it was fun to get a couple of wins for all the effort," Schindler said.

This time, free throw shooting was vital to North Branch's victory, as they shot 19-of-25 from the charity stripe. That will have to continue if the Vikes want to do some damage in the North Suburban.

Norman led the Vikings in scoring again, netting 21 points in the winning effort.


---
October
SUN
MON
TUE
WED
THU
FRI
SAT
Today's Events
No calendar events have been scheduled for today.
October
SUN
MON
TUE
WED
THU
FRI
SAT
Today's Events
No calendar events have been scheduled for today.