January 20, 2011 at 9:58 a.m.
'Cats clobber Heights, conference title hangs in balance this week
With Hylanders out of the way, unbeaten CL can turn attention to showdown with St. Francis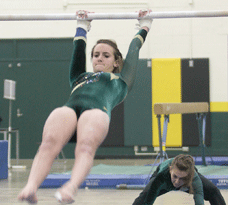 ---
Chisago Lakes 130.925, Columbia Heights 103.400

Much like many of the varsity sports that Columbia Heights competes in, they just weren't a match for the Wildcats gymnastics squad in a North Suburban Conference tilt last week.

The meet was nearly sealed after only one event. Chisago Lakes scored a very impressive 34.300 on the vault behind a 9 by Nicole Bean, an 8.5 by Savanna Stendahl, and 8.45 by Alicia Sokol and an 8.35 by Reba Berg.

Meanwhile, the Hylanders only tallied 19.350 points on the uneven bars, leaving them almost 15 points behind the Wildcats, a deficit even a great team would struggle to make up.

The 'Cats continued to pile it on as the events wore on. They stretched their lead to 17 points after the second event, 20 points after the third and 27 points by the time the meet was completed.

"This was our highest score of the year and a lot of personal records were set," Head Coach Brett Kjos said. "Bean's nine on vault was our first of the season."

Among other personal records that were set at the meet were Thomsen's 8.5 on the balance beam, Berg's 8.35 on vault, Bean's 8.6 floor routine and Sokol's 8.475 on the floor. Bean and Thomsen also set personal bests in the all-around. Bean scored a 33.350 and Thomsen had a 32.975. Stendahl was sandwiched in between them with a 33.00.

"The girls had been working very hard on putting new skills into their routines," Kjos explained. "Their hard work is starting to show in their scores."

River Falls Tournament

The girls had a tough draw at the 12-team invite in Wisconsin, but that didn't stop them from taking second place overall.

Their rotation was balance beam, floor exercise, vault and uneven bars. "We were the first team on the beam," Kjos said. "It is really hard to start the entire meet on the beam, but I thought it was our best performance of the year."

Kjos said that despite the 'Cats score of 29.300 on the beam to open the meet. They were anchored by Bean as she set another personal record, scoring an 8.600. Thomsen was the only other Wildcat who scored over seven, and that's why the beam was their toughest event as far as scoring goes.

"We only recorded two falls, but the judges gave us one of our lowest scores of the season," Kjos said.

After the beam, Chisago Lakes was in eighth place out of the 12 teams, and it was going to be a long climb.

They chipped away a lot of the points on their floor exercise. A 33.050 score vaulted them from eighth to fourth place in the meet. They were aided by Stendahl's 8.600, Thomsen's 8.300, Sokol's 8.100 and Bean's 8.050.

From there, Chisago Lakes went all the way up to second place after their vault performance. Sokol had a personal best of 8.800 to lead the Wildcats, and Stendahl was just behind her with an 8.775. Bean and Berg rounded out the scoring for Chisago Lakes and their 34.425.

Going into the last event, they just needed to fend off Rice Lake and Hudson to hold on to second place. At that point, host River Falls was running away with the event, and it was going to take a disaster from them for CL to catch.

The Wildcats didn't have their best performance on the uneven bars, but they still did enough to finish three points clear of the third and fourth place teams. Courtney Schlegel was the 'Cats top scorer with an 8.200. Stendahl scored a 7.850, Bean recorded a 7.750 and Betsy Howerton earned a personal best finish with a 7.450.

River Falls won the event with a 140.375 and Chisago Lakes came in second with a 128.025. Rice Lake came in third with a 125.575 and Hudson finished in fourth with a 123.050.

As for all-around performances, River Falls gymnasts claimed the top three spots. The top Wildcat on the list was Bean's 33.00 in sixth place out of 33 gymnasts. Stendahl tied for ninth place in the meet and Thomsen came in 14th.

Kjos noted that it was a great job and a lot of hard work to recover from the beam scores, but they moved six spots in three events. "Now, we are just getting ready for the showdown with St. Francis for first place in the conference!" he said.

The duel goes down on Thursday, Jan. 20 at 6:30 in the Chisago Lakes Middle School. With only one other conference match left on each team's schedule after, it will most likely determine the 2011 North Suburban Conference champions.


---
June
SUN
MON
TUE
WED
THU
FRI
SAT
Today's Events
No calendar events have been scheduled for today.
June
SUN
MON
TUE
WED
THU
FRI
SAT
Today's Events
No calendar events have been scheduled for today.