January 20, 2011 at 9:46 a.m.
Chisago Lakes stops NB with rugged 'D' and constant hustle
In the battle of cross county rivals, the Wildcats won their second straight game while Vikes saw their own two game win streak halted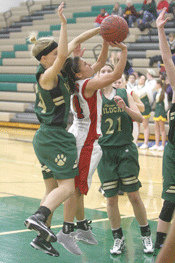 ---
Chisago Lakes 41, North Branch 27

As is always the case with this rivalry, neither team could quite gain huge edge on the scoreboard for very long.

Despite the Wildcats racing out to a 13-1 lead over North Branch, the Vikings wouldn't let that deter them in their effort to secure a victory.

"We started off really well with balanced offense," CL Head Coach Craig Walker explained. As a result, Chisago was making baskets left and right while North Branch struggled from the field.

"I think our inexperience really showed in this game," North Branch Head Coach Dan Schindler said. "We seemed a little nervous before the game. Really, only Kendra [Norman] and Sarah [Lekson] played against this team last year."

The nervousness spilled over on to the court as the Vikings turned the ball over six times in their first eight possessions, and that allowed CL to build their early lead.

But, North Branch went on a mini-run to close what was a low-scoring first half. They finished it out on 15-7 run and cut the lead to 20-15 by halftime.

"We just struggled to get our shots to fall in the last nine minutes of the first half," Walker reflected.

In the second half, Chisago Lakes came out hot and built a comfortable lead again, but North Branch's gridlock defense didn't allow them to pull too far away. "We had some chances in the second half, but we just weren't able to score enough," Schindler said.

Despite Chisago Lakes' inability to score at will, their defense really kept the Vikings from making any serious run, as Whitney Tinjum, Bryanna Fernstrom and Brittney Land were alll imposing figures to the height-challenged Vikings.

But, it wasn't one of the tall players that Walker commended on their defense. "I thought we played pretty good team defense against NB," he said. "And Hannah Trandahl really stands out individually."

Trandahl was matched up against North Branch's Kendra Norman, who was coming off of back-to-back 20 point games, and has been the Vikings most valuable player for the last two years. Trandahl held Norman, usually a scoring sparkplug, to no field goals and only four points in the game. "Hannah has been our defensive stopper this season and she held Kendra in check," Walker said.

In the end, the Wildcats held on in the low-scoring affair, winning 41-27.

"For the game we only shot 13 percent (six-of-45)," Schindler explained. "That will not win varsity games."

Despite the Wildcats winning and North Branch losing, both coaches saw things their teams need to improve on, but also plenty of good things.

"I was pleased with our defensive effort. Holding Chisago to 41 points is not easy to do," Schindler said. "Bu,t you have togive Chisago Lakes the credit, they did enough to win the game."

Although he came out on the winning end, Walker was a little disappointed in how many times North Branch worked their way to the charity stripe. "We did let them get to the free throw line too many times, but luckily for us, they didn't have their typical success," he said.

Leading the victorious 'Cats was Tinjum, who scored 15 points and grabbed nine rebounds. She also added four steals. Annie Stenson added seven points and Fernstrom had four points, four blocks and five rebounds.

North Branch freshman Haley Huset led the Vikes with 10 points and sophmore Annette Olson added nine rebounds.


---
June
SUN
MON
TUE
WED
THU
FRI
SAT
Today's Events
No calendar events have been scheduled for today.
June
SUN
MON
TUE
WED
THU
FRI
SAT
Today's Events
No calendar events have been scheduled for today.