July 21, 2011 at 9:38 a.m.
Turnover continues for North Branch athletics department
Only a month after the football coach departed, so too, did Activities Director Todd Van Erp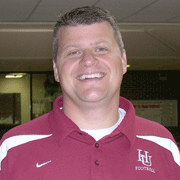 ---
Another year, another new important athletics role to be fill at North Branch High School.

The high school is like a song stuck on repeat right now, and they just can't seem to get to that next song. After losing football coach Justin Sawyer to Braham Area High School last month, the high school lost Activities Director Todd Van Erp to the Elk River School District.

Van Erp was replaced with Brett Carlson from White Bear Lake. Carlson's official title is Activities Coordinator, as the position had been moved to half-time during Van Erp's tenure.

Carlson is the third person in charge of the Activities Department since longtime AD Becky Leuer retired two years ago.

The district hopes they found their man in Carlson, an energetic 33-year-old who comes from the White Bear Lake School District. Carlson was a social studies teacher, as well as an assistant coach in football, basketball and baseball for the Bears.

Carlson, married and a father of two, lives in Hugo with his family, and despite being a lifelong member of the White Bear Lake district, is excited about the prospect of working in North Branch.

"First and foremost, the move was about professional growth," he admitted. "I've spent the last few years getting my degrees and licenses and I thought they was a perfect opportunity to use them."

Carlson, who will spend half his time as the Activities Coordinaor and half as a Behavioral Specialist, has an idea of what he wants to get out of the high school and the programs. "I want to see participation grow in the sports and develop and grow the clubs and sports we have," he said. "I want to get kids interested in sports who may not be in them right now."

Since he was announced last week, Carlson has already been in his new office and has already been around the school meeting his new co-workers. "The best thing so far is how welcoming people have been so far and how willing to help they are," he said. "Everyone ends our conversation with 'If there's anything you need let me know.' and the support has just been unbelievable so far."

Carlson also looks forward to applying his own twist on the job. "Something that drew me to North Branch was their creativity with the four-day work week and some other things that they've done, and I'm pretty creative myself," Carlson said. "So I'm looking forward to being creative and working with everyone."


---
September
SUN
MON
TUE
WED
THU
FRI
SAT
Today's Events
No calendar events have been scheduled for today.
September
SUN
MON
TUE
WED
THU
FRI
SAT
Today's Events
No calendar events have been scheduled for today.