June 9, 2011 at 10:25 a.m.
Chisago Lakes senior caps amazing career
Wildcat Aubrey Lawlor has lettered in just about everything she could fit into her schedule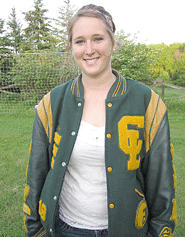 ---
If you look up the word 'active' in the dictionary, it's very likely you'll see a picture of 2011 Chisago Lakes High School graduate Aubrey Lawlor next to it. And whether or not Lawlor set some sort of record for participation in extracurricular activities during her four years at Chisago Lakes High School, she certainly can't be accused of goldbricking. Lawlor earned 39 letters while participating in 18 activities over her high school tenure.

She only has 32 of her 39 potential chevrons (representing letters) on her letter jacket because, frankly, the jacket is full. The sleeves and back are covered with chevrons and the front is crammed with patches representing all of her activities (at least the ones you can letter in).

Lawlor earned four letters in both Golf and Knowledge Bowl. She earned one or more letters in Soccer, Basketball, Marching Band, Band and Choir, Theater and Fine Arts, LINK Crew (welcoming freshman to the high school), Math League, Speech, Academics, One-Act Play and the Go Wild Team. She was also a member of the National Honor Society and SADD (Students Against Drunk Driving). She was a student athletic trainer for one year, participated in weightlifting and was sent by the American Legion to Girls' State, where she acted as head of the Environmental and Natural Resources Committee.

It makes a person tired just writing it all down, much less participating in all of it. When asked what possessed her to nearly redefine the term active, Lawlor laughed and said "I never wanted to choose which activity to be in, so I just decided to do them all." Her favorite academic activity was Knowledge Bowl, her favorite sport was Golf and she also loved participating in Theater.

Aubrey's parents are Tom and Joleen Lawlor of Chisago City. She has three brothers - Rick, 28; Ian, 14, who will be a freshman next year at Chisago Lakes High School; and Reese, 10.

Lawlor in no slouch in the classroom, either. Aubrey's father, Tom, called after the interview and mentioned that Lawlor would be one of the three valedictorians from Chisago Lakes at last Friday's graduation. He said she didn't mention it at the interview because she didn't want to make it seem like she was bragging.

This summer, Lawlor will be a counselor for Girls' State and teach at a theater camp. She also plans to take it easy a little and have some fun. She seems intent on keeping up her busy schedule at Lawrence University in eastern Wisconsin next fall. Lawlor plans to major in biochemistry, with minors in biomedical ethics and either theater or international studies. After college, she wants to go to medical school and eventually become a doctor for the Peace Corps, working in the rainforest in Brazil. "I'm looking forward to heading off to school next fall," said Lawlor. "I'm not looking forward to the bills, but the rest of it will be pretty exciting."


---
June
SUN
MON
TUE
WED
THU
FRI
SAT
Today's Events
No calendar events have been scheduled for today.
June
SUN
MON
TUE
WED
THU
FRI
SAT
Today's Events
No calendar events have been scheduled for today.