May 12, 2011 at 8:55 a.m.
Chisago Lakes Schools is losing a diamond in the rough, Principal Retzlaff is saying goodbye to a great career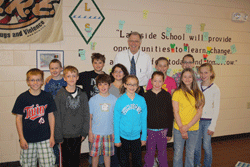 ---
Next September, if you were to visit Lakeside Elementary School in Chisago City, it would look vastly different than it does today. Yes, you still see the enthusiastic children hopping off the buses and goofing around with all of their friends. What you will not see is Principal Warren Retzlaff standing by the door greeting each and every one of them.

After 27 years of high fives and big smiles, Retzlaff is deservedly calling it quits. Preferring it not be called quit, Retzlaff speaks of "the next chapter" with a broad smile across his face.

Warren Retzlaff began as many school principals do, in the classroom. His teaching career began in a tiny town south of Red Wing called Goodhue. A small school proud in sports history, Retzlaff taught for 10 years while coaching basketball the entire time. Retzlaff couldn't see himself teaching and coaching for 30 years, so he began to take principal classes. Off and on, he finally completed his training, along with earning a superintendent license as well. Now 29 years later, Retzlaff is convinced he made the right decision.

Retzlaff replaced Erma Hanson, who also had been a mainstay within the Chisago Lakes school district. The two of them combined to hold the principal job at Lakeside for decades. That's quite a retention record for principals in this school.

When asked what he will miss the most, without hesitation, Retzlaff says relationships; School Board members, staff at Lakeside, other principals such as Joe Thimm of Taylors Falls Elementary, sports teams he has coached and church relationships.

Retzlaff explains "The nice thing about the principal position is that you can set aside school issues and still be a big part of the community".

Retzlaff is particularily proud of the all school photos that cover the walls near the school office. He says that old students stop in quite often to see the photos and reminisce. He is very surprised at just how many students continue to live in the area after high school.

When asked to list some of his most memorable moments over the years, Retzlaff says there are just too many. When pressed, he remembers the transition of losing the sixth grade and gaining third grade students. He recalls Minnesota Governors visiting the school over the years, including Mary Pawlenty most recently.

Some low points that Retzlaff remembers are deaths of a student. He recalls a small fire in the ceiling of the gymnasium. His face turns glum when he recalls four staff members he has lost over the years.

Asked if there were any comical happenings over the years he immediately begins to tell a story about a pig that got loose in a crash on Highway 8, running around the playground. Police Chief Stenson ended up shooting the pig, much to the chagrin of the students.

Retzlaff says, "Knock on wood, we have never had a major catastrophe or even issues with drugs or guns in my tenure".

He then begins to talk about stories that have pulled at his heartstrings. Like the child who can't afford his or her lunch, or the student who can't afford to take a field trip. Retzlaff said there have been a few instances that have been exceptionally tough such as finding out a student has slept on the street, or a student that is caught in the middle of a horrible divorce and is being used as a pawn.

Retzlaff is quick to point out that it is not all doom and gloom. He radiates when asked about his special ed students. He is so proud that all of his special ed students take part in some or all of the class room activities. "The acceptance of these great kids is nothing short of amazing" Retzlaff says. The students are accepted and included in all activities and you can see that between classes in the halls.

When the subject of thanking anyone in particular, Retzlaff says "Gosh...where do I begin?" "Don Bungum first and foremost, because he is the one responsible for hiring me". Retzlaff said that his staff from top to bottom have been wonderful to work with. "Students, definitely the students", Retzlaff estimates he has been principal to close to 6,000 students. "The School Board and the PTO have been great as well" Retzlaff says. "This is the best school I have ever been associated with".

Warren's wife Diane is also retiring this summer. Mrs. Retzlaff has been teaching at Wyoming Elementary for the last 15 years. They plan on staying in the area to be close to their sons Nate and Nick.

Any big plans for retirement?  Retzlaff adds: " Going to get my knees replaced, first thing". As always, cars will be in his future. Retzlaff has fixed up countless cars, mostly Chevy's along with 8 or 9 Corvette's. He remembers selling his prize GTO for college money for his son Nick. He is an avid follower of the NASCAR circuit and the Daytona 500 is on his bucket list.

Any closing remarks? Retzlaff says with a smile "I just want to thank everyone for a great, wonderful 25 years. I have loved everything. Enjoy it folks, because it is over before you know it."


---
June
SUN
MON
TUE
WED
THU
FRI
SAT
Today's Events
No calendar events have been scheduled for today.
June
SUN
MON
TUE
WED
THU
FRI
SAT
Today's Events
No calendar events have been scheduled for today.