May 19, 2011 at 6:25 p.m.
Chisago County losing decades of foster experience with recent retirements by two special foster families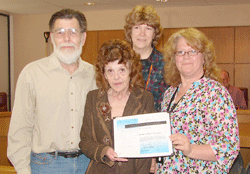 ---
Two local foster care households with a combined 30 years of foster service, are retiring, and appropriately enough they announced their departures during May, which is Foster Care Provider Month. County staff working in foster care said the Rohn's and the Steinbruckner's foster family legacies will be hard to match.

First a look at Paul and Laura Rohn.

They have cared for over 70 youth and also broke ground offering "full family" foster care in this county for the first time ever. They received a regional honor when presented with the Special Needs Foster Parents of the Year Award in 2004.

The Rohns will continue to have a full house even after retiring. One of the foster kids who was in their home years ago, has had three children who the Rohns have adopted.

Before Laura and Paul met she had provided foster care in Ramsey County (between 1989 and 1991.)

The two wed and became licensed in Chisago County for foster care in 1999. As part of their fostering adventure Laura and Paul also adopted two boys, brothers, placed in their home from another county.

Wendy and Don Steinbruckner hope to finally do some serious fishing when they quit fostering at the end of next month.

Don and Wendy were Providers of the Year for persons with disabilities in 2005 and recognized by the Social Services Association of Minnesota. They are dual-licensed for adult and youth foster care; which happened when a child they had in their home turned 18 and they didn't want to have to let him go. A second child grew to adulthood in their home and stayed on as well. They've fostered three adults and 16 youth.

They too participated in full family care, where a parent lives in the home with the children as the licensee provides mentoring and guidance.

New foster care providers coming into the system have been getting advice and counsel from Wendy and Don. Staff remarked they are "famous for their 'yes we can do that'" attitude in response to the county's needs.

******

Foster Care is headed up by Nancy Buck and Laurie Karp in the Human Services Department. If you are interested in learning more about foster care contact them at 213-5658 or see the county website at www.co.chisago.mn.us.

Chisago County has ridden a virtual roller coaster in recent experience with out-of-home placement. The peaks were during the methamphetamine era, according to social workers, and a valley could be considered where the county sits currently.

In 2003 there were 83 children placed in the first quarter alone.

By 2007 there were 112 children in foster or temporary care for the year, as new laws began to help curtail the meth epidemic.

In 2010 there were 42 total placements. A third of the way through 2011 there have been 22 placed in care.

HHS Supervisor Liz Dodge explained that meth wasn't the only front where the battle is being won. Children at risk are also being identified earlier and interventions are designed so families are getting services.

Foster care plays a big part providing respite care, which aids in keeping families from becoming overwhelmed. According to Chisago County's data half of the children arrive in placement due to challenges dealing with a disability/behavior.

The other 50 percent of reasons for out-of-home placement include abusive or neglectful home situations. Sexual abuse, parental drug abuse and inability to cope with the child are the three basic root issues.

Chisago County relies heavily on foster care. The county has 27 licensed sites. There are various locations where an at-risk kid may go-- to a relative, to a group home, a shelter or a treatment facility. But, 45 percent of all out-of-home placements went to non-relative foster care.

Relative care accounts for 15 percent, which HHS staff said is growing.


---
May
SUN
MON
TUE
WED
THU
FRI
SAT
Today's Events
No calendar events have been scheduled for today.
May
SUN
MON
TUE
WED
THU
FRI
SAT
Today's Events
No calendar events have been scheduled for today.