May 19, 2011 at 7:19 p.m.
Corey McKinnon resigns from CL hockey post after seven year run
The 31-year-old will still teach and coach both boys and girls tennis for Chisago Lakes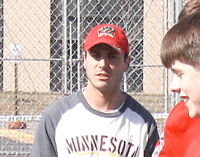 ---
Corey McKinnon, the head coach of the Wildcat boys' hockey team for the past seven seasons, has resigned, citing family and educational reasons. McKinnon will continue in his position as a health teacher at Chisago Lakes Middle School. There's no word yet on McKinnon's replacement.

McKinnon said "Being the father of three young kids requires a commitment to them all year around. Also, I have had aspirations to go back to school to get my masters' degree, with the possibility of getting into school leadership or being an athletic director in the future. I never thought I would make this decision seven years into the position at Chisago Lakes. As I distanced myself from season, it became more and more clear it was the best thing for me and my family. And I don't see it as goodbye. I just see it as taking some time away. I love coaching. I look forward to being involved at the youth level with my kids."

The 31-year-old McKinnon took over the Wildcat program for the 2004-2005 season at the tender age of 24. He had already spent two years as the head coach at Mora when he took the job at Chisago Lakes. In his second season as coach, the team moved from the disbanding Rum River Conference to the much tougher North Suburban Conference. The Wildcats had some ups and downs during McKinnon's tenure, but McKinnon leaves the Wildcats on a high note. They finished with the best record in Chisago Lakes history, 21-6-0 overall. Their 10-4-0 record in the conference was good for third place, behind powerhouses Benilde-St. Margaret's and Totino Grace.

What did the players think of McKinnon? A situation from a couple of years ago provides some insight. A large group of high school team parents, unhappy with the direction of the program, asked McKinnon to resign. They also presented a petition to athletic director Perry Aadland requesting that McKinnon be removed. The players were aware of what was going on, and a group of them approached Aadland to tell him they wanted McKinnon to remain as coach. As a coach, nothing is better than having your players tell you they want you to continue to be their coach.

McKinnon said "I was here for seven years through a lot of ups and downs. Some people loved me and some people hated me. I want to bed every day knowing I had given my best. The bottom line is that it has always been about the players. When we had some adversity a couple of years ago, I made a commitment to take a direct approach and open my door. I think that's a big reason culture of team continued to climb. I think if you ask the players, for the last two years the locker room was a place the kids wanted to be. What I will miss most is the camaraderie with the kids."


---
May
SUN
MON
TUE
WED
THU
FRI
SAT
Today's Events
No calendar events have been scheduled for today.
May
SUN
MON
TUE
WED
THU
FRI
SAT
Today's Events
No calendar events have been scheduled for today.