November 10, 2011 at 8:45 a.m.
Trio of runners represent Chisago Lakes well at state meet McKenzie leads the way in 19th place while underclassmen Forsman and Magnuson each impress at first state meet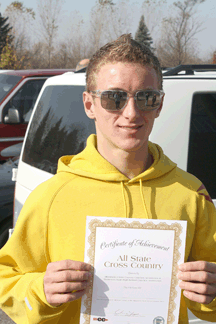 ---
State Tournament at St. Olaf College

With the best runners in the state huddled around him on an unseasonably cozy November day at St. Olaf College in Northfield, Luke McKenzie broke out of the starting gate at the state cross country tournament determined to finish off his first and only year of cross country with a bang.

McKenzie, along with teammate Andy Magnuson, came out fast, maneuvering his way to the front of the pack of elite runners and pacing the first mile of the 3.1 mile race.

He finished the first third of the race in blazing-fast 4:56. "The first mile was a little fast, but that is how the state meet is run and they went with it," Head Coach Ken Orwoll said after the meet.

McKenzie came back down to earth a bit in the second mile and set himself at a more comfortable pace. In the third mile, McKenzie stored up some of his energy to attack in the last half mile of the course. It was downhill, so he figured he'd be able to make some serious moves with a little energy left over.

Towards the end of the hill, he started passing bodies clad in all different uniforms and used the last gas he had left to explode through the finish line in 19th place with a time of 16:08.7.

He was within 10 seconds of placing in the top 10, but still ran a heck of a race for his first ever experience at the state tournament. The finish earned McKenzie All-State, as the top 25 runners come away with that distinction. McKenzie also got a small measure of revenge, topping senior Mitch Fisher of Andover, who had beaten McKenzie out for the individual section championship just a week before. Fisher clocked in at 16:19 in 36th place.

Although Magnuson came out just as fast as McKenzie in the beginning, he wasn't built to run that fast that early, and it took him a bit to adjust before finishing strong.

He took the same route, however, that McKenzie did and went into attack mode in the last half mile as he barrelled downhill. "I was really impressed with how well Andy handled the pressure of state," Orwoll said of his sophomore runner. "He adjusted well after going out too fast and had a great finish in his first ever state meet."

Magnuson ended up finishing in 69th place out of 157 runners with a time of 16:45.7. With two more years ahead of him, this is just the first of what could be multiple state tournament appearances for Magnuson.

Josh Thorson of Wayzata won the event, finishing in 15:29, more than 10 seconds in front of second place Riley Macon of Rochester Mayo. As a team, Stillwater took home the state title with a score of 92 points. They were 22 points ahead of second place Burnsville.

Girls

In the girls half of the races, the day started out with a strong performance from first-year runner Abbi Forsman.

The junior runner was impressive despite some unknown factors. "The whole atmosphere at the state tournament is just overwhelming," Orwoll explained. "But, Abbi ran like she had every other race this year."

Forsman came out strong and kept a good pace, despite being boxed in a crowd, something she wasn't used to after running most of the season with just a few girls around her.

She kept a solid pace up throughout the meet and ended up finishing in 39th place with a time of 15:11. She ended up falling just 15 seconds short of All-State accolades, but she beat two of the girls who had finished in front of her at sections.

"Abbi had a very good day. The experience she gained at the state tournament is priceless for her senior year," Orwoll noted.

Junior Maria Hauger of Shakopee won the meet with a 14:04, just a second ahead of senior Jamie Piepenburg of Alexandria. In the team competition, Monticello won the event with 93 points, outpacing Lakeville South in second place with 118 points.
---
June
SUN
MON
TUE
WED
THU
FRI
SAT
Today's Events
No calendar events have been scheduled for today.
June
SUN
MON
TUE
WED
THU
FRI
SAT
Today's Events
No calendar events have been scheduled for today.