October 27, 2011 at 9:38 a.m.
Chisago Lakes boys finish second in NSC
Senior Luke McKenzie wins the 'Cats first ever conference title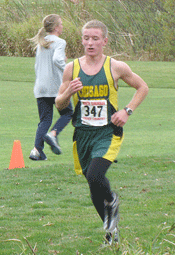 ---
North Suburban Conference Championships

Despite hanging with conference kingpin Totino-Grace for four runners, the Chisago Lakes boys cross country team just didn't have the firepower to dethrone the Eagles.

The Wildcats ended up boasting four All-North Suburban Conference runners after the day was over, led by Chisago Lakes' first ever conference champion in cross country Luke McKenzie.

McKenzie set the pace throughout the race and didn't relax when it came time to put the hammer down and fly through the finish line.

Much like most of the conference races this year, McKenzie finished first with a time of 16:18. All the more impressive considering this was McKenzie's first year in cross country.

Andy Magnuson could very well be the second conference champion in cross country next year after McKenzie is graduated. Magnuson finished in second place with a time of 18:36, but it was his brains, in addition to his athleticism that earned him the high finish.

As the win was howling around, he was in a dogfight with two Totino-Grace runners all the way through, but Magnuson just bided his team as the trio run directly into the wind. He tucked in behind the two and just stayed on their heels, but was able to conserve a little energy not running directly into the wind.

With only 50 meters left in the race, Magnuson made his move, swooping past the two and out-sprinting them to the finish line.

Totino-Grace had the next three finishers in the race, as they went three-four-five.

But, it wasn't long before more Wildcats were crossing the finish line. Sophomore Quinton Lee completed the race in 17:27, which was good enough for 12th place and an All-NSC nod. "Quinton had an outstanding race, besting his old personal record by over 30 seconds," Head Coach Ken Orwoll said excitedly after the meet. "He started in the middle of the pack and after the first mile, he just kept passing kids until the end."

Noah Rockenback was just behind him in 15th place with a time of 17:30. He also earned All-Conference, as the top 15 runners earn All-NSC while the next 15 earn All-NSC Honorable Mention. "Noah ran the exact opposite race of Quinton," Orwoll noted. "He started out running with all the leaders and just hung on at the end to get that All-Conference."

After Totino-Grace had a runner finish in 17th place, the two teams were actually tied at 30 points, so it was down to the last runner.

Unfortunately, Totino had the next finisher and best the Wildcats. The Eagles had the 20th place finisher while Carl Osterberg rounded out the 'Cats varsity scoring with a 49th place finish in 18:36, which was only four seconds off of his personal best. "Carl ran a very consistent race. I was very proud of how he and everyone else ran," Orwoll said. "Unfortunately, Totino was just very good."

The Eagles won the meet with a score of 50 and Chisago Lakes came in second with a score of 79. St. Louis Park was the only other team under 100, coming in with 92 points.

Girls

The Wildcat girls didn't quite have the depth of the boys' team, but they still churned out three award winners, including a top three finisher.

Junior Abbi Forsman completed the race in 15:31, which was good enough for third place in the conference and All-NSC.

After her, another Wildcat didn't cross the finish line until Mary Cross and Katie Christy came in together, both at 16:57. Officially, Cross earned 24th place while Christy finished in 25th place. Both of them earned All-Conference Honorable Mention for their performances.

Liz Coulter ran a quality race for Chisago Lakes, coming in 42nd place with a time of 17:53. Ali Fuller finished out the scoring with a 50th place finish in 18:19.

Orwoll was happy with his team's performances over all, noting that it's quite impressive to have seven of the 14 varsity runners earn All-Conference or All-Conference Honorable Mention.

The teams travel up to Cloquet on Thursday, Oct. 27 for sections to determine which of their runners will be going to state. Magnuson, McKenzie and Forsman all have solid shots at making the state meet for CL.


---
June
SUN
MON
TUE
WED
THU
FRI
SAT
Today's Events
No calendar events have been scheduled for today.
June
SUN
MON
TUE
WED
THU
FRI
SAT
Today's Events
No calendar events have been scheduled for today.