August 30, 2013 at 9:07 a.m.
Road projects update includes OK to move turnbacks forward
Hwy. 95 opening soon, County Road 14 will be done before school starts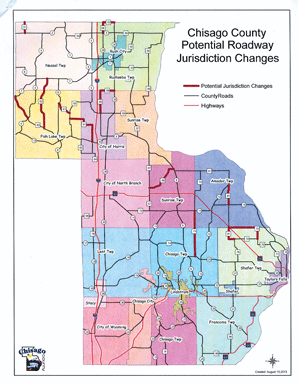 ---
Chisago County commissioners set the process in motion last week to transfer "jurisdiction" of about 40 miles of roadway that have been identified as no longer fitting into the county road system and which should become township/city lanes. The County Transportation Plan update is the product of a "real hands on process," explained County Engineer Joe Triplett. He says he will continue to work closely with local government officials during the "jurisdictional transfer" effort. The 4-1 vote that authorized the engineer to proceed had Commissioner Mike Robinson voting no, saying "...there's way too many (turnback roads) in my district."

Triplett said the list of turnbacks are "recommended" based on road usage and connectivity, their importance to the overall traffic patterns and the roads' average daily traffic counts. The miles eventually transferred depends on many factors that will be investigated during a public hearing providing future discussions required under state law. There was no action setting any public hearing dates. "There's no timeline" for this, Triplett added. He said roads that "are ready to go" will be priority turnbacks.

For instance County Road 18 in Lent Twsp. wouldn't be considered until the County Road 17 extension to the east, to connect with #14, is completed. And, CR #68 in North Branch will need to be improved first as part of Falcon Avenue reconstruction, in cooperation with North Branch. There are road condition standards the county is required to meet before any turnback is adopted. The county also may have to maintain the road sections for up to two years to give townships the chance to adjust their budget.

******

In his project updates, the engineer reported the County Road 14 reconstruction will be done before Labor Day, in time for North Branch Schools to be fully accessible.
~ Highway 95 will be fully open before Hay Days takes place (Sept. 7 and 8.)
~ The bridge replacement in Carlos Avery Wildlife Management Area, east of Stacy on County Road 19, was expected to be completed and open by late this week.
~ #56 guardrail and bridgework should be done this week and the road fully open. About Old Towne Road...

Triplett said he is planning to meet with Chisago City officials and the public sometime in coming months on plans for Old Towne Road reconstruction. The work zone is from Stinson Ave to the south. The stretch of Old Towne alongside the Chisago Lakes Primary School has been signed for 25 mph following up on concerns expressed by Commissioner George McMahon. The slow speed is "when children are present," which obviously includes the school year, but also is effective in summer when the ballfields on Old Towne Rd. are in use.

Triplett reported the county was approved for HSIP federal funds and is getting $900,000 for 2014, 2015 and 2016 total. These monies are for safety enhancements like striping, lighting, shoulder paving, etc. Commissioner Lora Walker thanked Triplett for his extra effort identifying and securing the outside funds, and said, "This guy works really hard."
---
November
SUN
MON
TUE
WED
THU
FRI
SAT
Today's Events
No calendar events have been scheduled for today.
November
SUN
MON
TUE
WED
THU
FRI
SAT
Today's Events
No calendar events have been scheduled for today.