June 6, 2013 at 1:43 p.m.
Vikings sending five individuals and one relay team to state
Freshman Mikayla Johnson broke the Section 7AA record with an 11'2.25" pole vault, besting the field and earning her first trip to state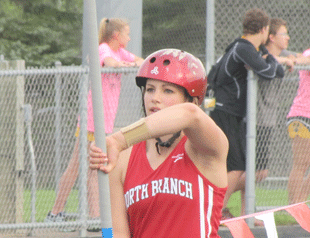 ---
Norm Nagel's speciality is pole vaulting. The second year head coach of North Branch's track and field team, Nagel knew he saw some potential in some younger vaulters last year, but waited until this year to unleash them, and they've been effective throughout the season. The Section 7AA meet last week was highlighted by freshman Mikayla Johnson just edging out the pole vaulting record held for the last three years by Forest Lake's Taylor Brett. The freshman cleared the 11'2.25" mark while Brett's record had stood at 11'2".

The jump was also Johnson's personal best. It wasn't smooth sailing, however. Nagel said that everyone got a bit of a scare at the 9'7" mark when Johnson missed her first two attempts. "Then she made her third attempt and got on a roll and jumped her personal best to take first place and get a trip to the state meet," Nagel said. "Luckily, we've got her for three more years." Johnson's 11'2.25" height gives her the fourth seed in the 16-girl field. Andrianna Jacobs of Rochester Century is the top seed at 11'9", Paige Clements of Mounds View is the second seed at 11'5" and Austin's Abby Snater is the third seed with a jump of 11'3". The girls pole vaulting event will begin at 9 a.m. on Saturday, June 8 at Hamline University. Johnson isn't the only Viking making the trip down to Hamline. In fact, four more individuals are going with her, as well a relay team.

Eighth-grader Rhianna Rinke was a double qualifier, earning a trip in the 1,600 meter run and the 3,200 meter run. This will be Rinke's first trip to the track and field state tournament, but she isn't short on experience, as she ran in the state cross country meet in the fall. "She is our first double distance qualifier in quite some time," Nagel said. "It will be fun to watch her run with the big dogs at Hamline." Senior SherahLynn Linkert was also a double qualifier. She qualified for her second career state tournament and her first since 2011. Linkert earned a trip in the 300 meter hurdles with a 46.05 second run. That gives her the 12th seed in the state tournament.

She also qualified as part of North Branch's first ever state entrant in the 4x200 meter relay. The team also included sophomore Maddie Kunshier, freshman Cassie Kunshier and junior Kadie Mattson. That foursome won their event with a 1:48.19, but they are still the 15th seed out of 16 at the state tournament and will have to cut some extra time off of their splits to hang with some of the top teams. "We knew the girls had a chance to qualify and they proved it by taking place first place," Nagel explained. "It was a very fun race to watch because at one point they were in sixth place and had to make up some time." In field events, senior Gina Amundson was a surprise second place finisher in the high jump. The senior leapt five feet, and ended up in a tie with two Andover athletes. She lost out to one of them, but topped the other one because Amundson had fewer misses in the event. "What a great way to finish her senior year," Nagel exclaimed after the meet. Boys

On the boys side, only Arik Steele earned a trip to the state tournament. He qualified in the 110 meter high hurdles. The sophomore was in an intense battle for second place all the way down to the inches before the finish line. A final lunge left him in second place with a time of 15.22 seconds. Senior Logan Grace of Elk River finished in third place with a time of 15.24 seconds. "Arik had a very close race at the end and was willing to sacrifice his body by plunging forward at the finish line to beat Elk River to take second place," Nagel explained. "This is Arik's first trip to the state meet and I'm very excited to see him run."

Levi Kolke had the top seed in the 400 meter dash going into the finals, but he finished in a disappointing third place, narrowly missing out on a state berth. Junior Brandon Thauwald finished fourth in the high jump, leaping 5'10" for the Vikings. "Overall, it was a nice finish to the season. Considering the rain, fog, wind and cooler temperatures we had to face in Duluth, I was very pleased with our athletes performances," Nagel said. "They represented North Branch High School very well. I would like to thank our parents who braved the elements to watch the athletes compete at sections. I would also like to thank the coaching staff for all of their dedication this spring."

The state meet will be the final hurdle for theses athletes. It begins on Friday, June 7 at 9 a.m. Here is the athletes' schedules:
Rinke - Friday, June 7 at 9 a.m. - 3,200 meter run, Saturday, June 8 at 10:42 a.m. - 1,600 meter run
Amundson - Friday, June 7 at 9 a.m. - High Jump
Steele - Friday, June 7 at 9:52 a.m. - 110 meter hurdles
4x200 relay - Friday, June 7 at 10:30 a.m.
Linkert - Friday, June 7 at 11:36 a.m. - 300 meter hurdles
Johnson - Saturday, June 8 at 9 a.m. - Pole Vault
---
October
SUN
MON
TUE
WED
THU
FRI
SAT
Today's Events
No calendar events have been scheduled for today.
October
SUN
MON
TUE
WED
THU
FRI
SAT
Today's Events
No calendar events have been scheduled for today.