June 13, 2013 at 1:34 p.m.
Business students return from Orlando Business Professionals of America National Leadership Conference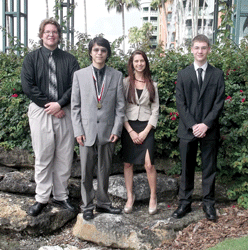 ---
Top students from Chisago Lakes High School attended the Business Professionals of America (BPA) 2013 National Leadership Conference, "Uncover Your Magic," in Orlando, FL. Chisago Lakes chapter members, Jeremy Bastyr, Anna Peltier, Christian Schmidt, and Branden Tomaino joined over 5,000 other conference delegates from across the nation in national level business skills competitions, workshops, general sessions, and the national officer candidate campaigns and elections. They also experienced the city of Orlando, FL.

"The conference was the culmination of a school year's worth of business education and training which members of the local chapter of Business Professionals of America at Chisago Lakes School have received. This year's results at nationals are fabulous. I am so proud of our students to be able to compete so well at a national level," said chapter advisor, Lynn Stoltz, who teaches Accounting, Computer Apps I & II, Small Business, Personal Finance and Intro to Business. Jeremy Bastyr placed 15th in the nation in the Fundamental Spreadsheet Application contest. Anna Peltier participated in Interview Skills by submitting a resume and cover letter and then having a mock interview. Christian Schmidt, the club President, placed 11th in Legal Concepts. Branden Tomaino was on the awards stage for placing 6th in Advanced Spreadsheet Application. He was presented a medal for his accomplishment. Business Professionals of America is a national organization for high school, college, and middle school students preparing for careers in business and information technology.

The organization's activities and programs complement classroom instruction by giving students practical experience through applications of skills learned at school. Business Professionals of America acts as a cohesive agent in the nationwide networking of education and business and industry. BPA is contributing to the preparation of the world-class workforce through the advancement of leadership, citizenship, academic and technological skills. Business Professionals of America is assisted in this endeavor with financial support from corporations and companies including AICPA, MarketPad.biz and Certiport, who sponsor BPA's National Leadership Conference, and member career building programs and scholarships. Local support came from Lindstrom Fire Department, Shafer-Franconia Fire Department, Security State Bank of Marine and the Chisago Lakes Lions Club.
---
November
SUN
MON
TUE
WED
THU
FRI
SAT
Today's Events
No calendar events have been scheduled for today.
November
SUN
MON
TUE
WED
THU
FRI
SAT
Today's Events
No calendar events have been scheduled for today.