April 3, 2014 at 2:52 p.m.
History teacher finds tourney brackets to be helpful, engaging tool for students in pursuit of most influential Minnesotan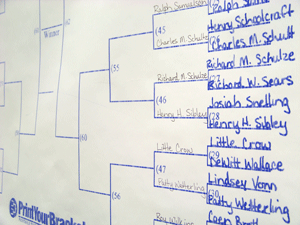 ---
If you were to overhear students in Ms. Hawkinson's middle school classes discussing who is advancing to the "sweet 16" you might chalk it up to all the NCAA tournament talk this time of year. But at the Chisago Lakes Middle School, the bracket charts posted on the walls in Room 166 carry names of historic Minnesotans, not basketball teams. History instructor Jeanne Hawkinson's sixth graders are in competition to identify the most influential Minnesotan. Concurrent with the NCAA tourney schedule, the middle schoolers are using the bracket system to keep track of wins and losses for historic subjects.

If you advance in the competition all the way to the final line of the bracket you have successfully presented the most historically significant Minnesotan to your classmates. Depending on how fellow students vote-- the historic person either moves along through their bracket or drops off the chart. The critiques, explained Ms. Hawkinson, are based partly on classroom presentation and partly on the wow factor of the subject's contributions to the state. Hawkinson incorporated the brackets into her Minnesota history lesson plan based on a similar tool used by a Rosemount high school teacher. It checks all the educational boxes, she explains. Students are exposed to public speaking which is an important skill, but can be difficult to get middle schoolers to have fun with. Students put together their presentations using individual Chrome Books, so they are also learning to use technology by locating pictures, video, even music, on the Internet that they can layer into their presentations. Hawkinson has access to each student's project files from her computer and can view their progress. Class presentations happen at the smartboard (like a huge computer screen) at the front of the classroom. Third hour, fourth hour, fifth hour, etc. each have a bracket on the wall.

On each line of a bracket grouping is a name of a Minnesotan, either a native or someone who lived here long enough to have made an impact. Students told the Press reporter they were kind of surprised at how many important Minnesotans they could choose from. They'd heard of quite a few, but didn't know some of the figures were from Minnesota. The day we visited two powerpoint-style pieces covered athletes Herb Brooks and Roger Maris. When speakers were done kids continued work on individual projects covering the life of subjects ranging from Henry Sibley, to Roy Wilkins to Ann Bancroft and Leann Chin. Hawkinson explains that as the brackets narrow the students "...have to really know their guy." When a presentation advances to ensuing rounds the class gets to randomly ask questions and the presenter has to be prepared to explain a subject's importance and impact on state history. Hawkinson tries to keep things rolling along at the same pace as the NCAA schedule, but it's the first year for this and there have been glitches. The "Most Influential Minnesotan" bracket entry should be revealed to great fanfare sometime next week.
---
October
SUN
MON
TUE
WED
THU
FRI
SAT
Today's Events
No calendar events have been scheduled for today.
October
SUN
MON
TUE
WED
THU
FRI
SAT
Today's Events
No calendar events have been scheduled for today.