August 1, 2014 at 10:31 a.m.
Thompson keeps it rolling, wins sixth straight
Tami Ritchie fends off two hard-chargers to win her first ever CL Triathlon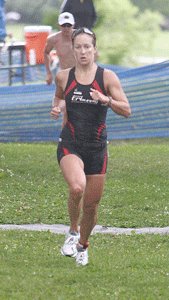 ---
Editor's Note: To find the full half-triathlon results, please visit www.pttiming.com.

Men
Although most of the leaderboard had a national flair to it in the 2014 Chisago Lakes Triathlon, one thing remained constant: David Thompson.
The St. Paul native won his sixth straight CL Tri, coming in first with a time of 4:03:10, but he only bested the field by a minute this year. Last year, Thompson won the event by almost 12 minutes.
Due to an error in the timing chip, Thompson's swim and run times weren't added up properly, but he was the first one out of the water, and that's typically when he sets the tone for the day.
His bike time was 2:14:39, right there with the other top finishers in that portion. Sean Cooley, who finished fourth overall, had the best bike time in 2:11:42.
Thompson entered Paradise Park to a mix of sun and rain drops, and he took  a few moments to enjoy the scene. In his previous five wins, Thompson takes in the cheers, but usually stays steady through the finish line. This time, Thompson stopped at the home stretch and began a slow walk towards the finish line, handing out high fives on his way across.
In second place, Tom Gerlach of Madison, Wisconsin, finished in 4:04:08. Tim Hola from Highlands Ranch, Colorado came in third and Cooley, of Grand Forks, North Dakota, came in fourth.
Eric Engel of Minneapolis came in fifth place with a time of 4:11:28.

Women
Tami Ritchie had a ton of half iron experience under her belt coming to her first Chisago Lakes Triathlon. She has even run a full Ironman in Mexico.
With that experience in the long distances, Ritchie buzzed through the Chisago Lakes course, finishing in first place among women in a time of 4:33:39. The mark was especially remarkable considering the winning woman last year crossed the finish line in 4:46:42.
Ritchie was the first woman out of the water, besting any other female by almost two and a half minutes.
She was able to keep a torrid pace on the bike, finishing sixth out of the women in the longest leg, in a time of 2:32:20.
Her biggest competition was coming from Kortney Haag, a Maple Grove woman who finished third in the tri last year.
Haag was just minutes behind Ritchie after posting a 2:27:36 on the bike.
Haag kept the pressure on throughout the run, even passing Ritchie at times, but the Ankeny, Iowa native was able to retake the lead and hold off the competitors for the remainder of the race. Ritchie's time of 4:33:39 beat Haag by 43 seconds. Haag finished in 4:34:22.
Defending champion Diane Hankee of Lino Lakes finished in third place in 4:40:45. Nicole Heininger of White Bear Lake came in fourth and Marnie Walth of Bismarck, North Dakota, was fifth.

Local Runners
There were only four local runners who competed in the Half Iron Triathlon.
The top finisher was Chisago City's Jon Lauritzen. He came in 171st with a time of 5:28:46. He had a swim in just over 38 minutes. His bike ride was 2:55:15 and his run took 1:51:33.
The popular Rose Bruce, who had cheering sections seemingly throughout the course, came in 229th place with a time of 5:46:12. She was the lone female local runner. Her swim was 42:30, her bike was 2:55:27 and she finished up with a run in 2:04:11.
David Nelson of North Branch came in 330th place with a time of 6:27:22. His splits were a 47:46 swim, a 3:04:20 bike and a 2:25:52 run.
And the fourth local athlete to finish the Half Iron was Jeff Rensink of Lindstrom. He finished the swim course in 46:46, the bike course in 3:31:09 and the running course in 2:51:55.
---
December
SUN
MON
TUE
WED
THU
FRI
SAT
Today's Events
No calendar events have been scheduled for today.
December
SUN
MON
TUE
WED
THU
FRI
SAT
Today's Events
No calendar events have been scheduled for today.