June 19, 2014 at 3:55 p.m.
Buboltz finishes in 22nd place for North Branch
Thompson and Nelson also competed at state at Bunker Hills Golf Course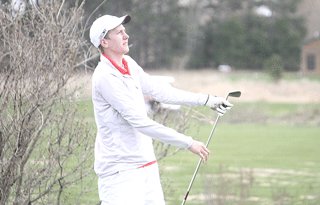 ---
Recently, when area golfers have made the state tournament, they struggle mightily at the grandiose meet. Golf is such a mental game, and even the slightest difference in a swing or approach can be the difference between a great day and a miserable day. John Buboltz decided his last meet in the North Branch red and white was going to be a great day. The senior took Bunker Hills by storm on the first day, Tuesday, June 10. He kept his drives on the fairway, nailed his approach shots and left himself with easy putts all over the course. It was a golf clinic by Buboltz. He shot 74 on the opening day, a two over. That left him tied for sixth place and in prime position to make a second-day run if he could come out with a similar mentality the next day.

Unfortunately, things weren't breaking as well for Buboltz on the second day. He still carded an 80, which is a respectable score, but where his drives had coasted down the fairway on the first day, they would take the extra bounce into the rough on the second day. The putts had a few extra feet on them and landed on slopes. Things were a battle compared to the first day. He shot a 40 on the opening nine, to go four over for the day and six over for the tournament. On the back nine, Buboltz replicated his 40 and ended with a two-day total of 153, which left him tied for 22nd place in the biggest class in Minnesota. Just some of the golfers in front of him came from Edina, Lakeville North, Wayzata, Anoka, Hastings, Andover, Apple Valley, Minnetonka and White Bear Lake. Chris Captain of Rochester Century won the meet with a 142, three strokes clear of second place.

Thompson, Nelson card 162 and 165
The other two area golfers to take part in the state tournament were two sophomores.. Chisago Lakes' Bryce Thompson had troubles at different times of the meet, despite hitting some nice shots at other times. He shot an 83 on the first day, and then backed that up with a 79 on Wednesday. His total of 162 left him tied for 65th place with Matt Kerr of Eden Prairie. Nelson, who had shot a career best in the section tournament to earn a surprise bid to state, had a rough go of it on the first day.

He couldn't get up and down when he needed to and shots just weren't going where he needed them to go. He carded an 87 on the day, a far cry from his 74 that he shot in sections at Hinckley Grand National. On the second day, Nelson did well to calm his nerves and improved his score dramatically. He shot just one over on the front nine and followed that with a five over on the back nine to card a 78. It still wasn't his best round, but shaving nine strokes off at the same course was a confidence booster for Nelson going forward. His two-day total of 165 left him tied for 72nd place with Jake Ramsey of Buffalo and Austin Meissner of Andover.
---
December
SUN
MON
TUE
WED
THU
FRI
SAT
Today's Events
No calendar events have been scheduled for today.
December
SUN
MON
TUE
WED
THU
FRI
SAT
Today's Events
No calendar events have been scheduled for today.