February 19, 2015 at 3:11 p.m.
Two Wildcats earn top five finishes at the state tourney
Anders Brown and Ellie Frischmon both finished in fifth place overall at the state alpine ski meet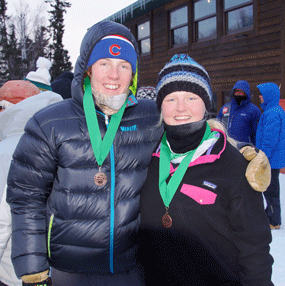 ---
Anders Brown and Ellie Frischmon had high hopes going into the state alpine ski tournament at Giants Ridge last week.

They both had impressive regular seasons and successful section runs. They both were veterans of the state tournament. They both have skied Giants Ridge more times than they can count.

And they both earned fifth place finishes in the stacked fields of the alpine ski state tourney.

Brown made it two top 10 finishes in a row, as he skied to an eighth place finish at last year's state meet.

The race order was the same as sections. The boys started on the Innsbruck course, and immediately, Brown carved a fast line down the hill. His opening run flew by in 36.67 seconds. It kept him in seventh place after the opening round was complete.

On the second run, which took place on the Helsinki course, Brown was even better. He blasted down the hill like a green and black avalanche, finishing in 35.30 seconds, giving him a combined time of 1:11.97.

The time was good enough for fifth place on the Helsinki Course, and fifth place overall, adding to Brown's legacy as a skiing great at CL.

Assistant Coach Su Leslie was happy with the finish for Brown, but she also longed for the days when the individual race was separate from team race.

Since the boys qualified as a team, and Brown only got one run at it, he needed to be extra careful  not to take a spill so it didn't hurt the team.
"The current format kind of punishes you if you are an individual qualifier whose team also qualified, and teams have individual qualifiers taking points and higher spots in the run order," she said. "It allows for individuals who didn't qualify as part of a team to race as though they have nothing to lose and only themselves to race for."

Of the four skiers who finished in front of Brown, only one also skied as part of a team. Peter Kiesel of Breck finished second in the individual tournament.

Frischmon, on the other hand, was able to ski uninhibited by worries of a team score, and she did very well. This was her third trip to the state tournament, and this result was a long time coming.

Two years ago, she had a promising debut, finishing in 15th place with a time just over 1:21. Last year, she was really hoping to take a jump into the top 10 but a fall derailed her goals.

This year, she skied flawlessly en route to a fifth place finish. She opened her day on the Helsinki Course, coming in seventh place with a time of 37.35 seconds.

When she took to the Innsbruck course, she stayed strong while others around her struggled. She finished Innsbruck in 39.17 seconds, which was a couple ticks off of her Helsinki time, but she finished in fourth place on that course, moving up while others fell. Her total fifth place time was 1:16.52.
"Ellie skied great!" Leslie said. "The course was fair and fast and she had the right conditions."
Frischmon's brother, John, also earned an individual slot at the meet.

He took full advantage of the opportunity, finishing in 25th place overall. He had a 23rd place finish on the opening Innsbruck course with a time of 38.14 seconds. On the Helsinki course, Frischmon came down the hill faster, but the course was  faster in general. He finished the run in 37.68 seconds, good enough for 32nd.

His combined time of 1:15.82 put him in the top 25 and is a good start to his state tournament story that should include another chapter next year, when he is a senior.

Brown and John Frischmon skied as part of a team, as the Chisago Lakes boys squad made the trip after finishing second in sections. The team finished in sixth place overall out of the eight teams that made the trek to Biwabik.

Brown led, finishing in second place overall among the team qualifiers. John Frischmon's times were good enough for 11th place in the team meet.
Casey Bennet had a couple strong runs for the 'Cats, coming in 32nd place with a time of 1:21.83. Jeremy Wesloh finished up the point scoring for CL with a 36th place finish in 1:25.10.

Isaac Bierman and Ryan Mower also registered times for CL, with Bierman coming in 43rd and Mower just behind in 44th.

Leslie was happy with how the guys performed, but knows there was room for improvement after the meet.

"Casey Bennett was having a great first run and then got back on his skis and lost a couple of seconds mid-run - he had a good second run,: she said. "Ryan Mower also had some glitches in his runs. Jeremy Wesloh and Isaac Bierman rounded the team out with solid runs, but at this level there is no room for errors and glitches. Had we all had clean, fast runs, we know this team is capable and are part of the what comprises the top racers in the state! --  That's ski racing. We'll be back!"


---
June
SUN
MON
TUE
WED
THU
FRI
SAT
Today's Events
No calendar events have been scheduled for today.
June
SUN
MON
TUE
WED
THU
FRI
SAT
Today's Events
No calendar events have been scheduled for today.