January 22, 2015 at 1:23 p.m.
Through unthinkable tragedy, one Chisago Lakes athlete has persevered and flourished
Blake Lizotte parlayed the tireless work ethic and humility his late father taught him into a Division 1 hockey scholarship from St. Cloud State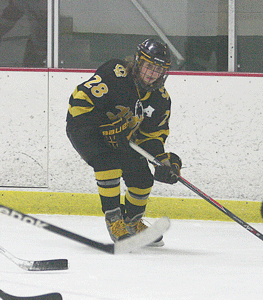 ---
Physical pain has never really bothered Blake Lizotte too much in his life.

He's the youngest and smallest of three athletic brothers. He plays hockey, a physically demanding sport, but only stands 5'7" and weighs 140 pounds. And he sprints around the tennis court to no end with some of the best players in Minnesota.

But, no amount of physical pain he'd ever experienced could prepare him for the morning of August 30, 2012.

Blake's father, Mike Lizotte, passed away unexpectedly in the middle of the night.

Mike was an energetic, friendly teacher in the North Branch School District and a proud husband and father. He coached all three of his boys at different levels in hockey and tennis, and worked with youth at Lakes Free Church.

When he wasn't mentoring kids in different activities, he was out on the lake, enjoying time with his family.

"Mike was such a selfless person. He had such a great personality and a passion for kids," said Corey McKinnon, one of Mike's closest friends and Blake's coach early in his career. "I first met him when I moved to the area in 2004 and it took me all of 10 minutes to get to know Mike and know that I had a lifelong friend."

McKinnon also could tell quickly that Blake was going to be a very good hockey player. "Even down in Mites and Squirts, Blake was doing things that were on par with a high school player. Maybe not with the strength the high school players were doing it, but he had the execution down. He had amazing stick handling and his skating really stood out."

Lisa Lizotte, Mike's wife and Blake's mother, said that Blake had been wearing skates since he could stand upright. "He was wearing skates while he was wearing diapers," she said.

When the boys were young Blake taught himself how to skate. Lisa said she would tie  Blake's skates first and he would crawl out to the backyard pond and start skating on his own. He refused help from anyone. "He was so small," she said. "His inseam was so short that I think the skates went up past his knees. He kept falling down in his little snowsuit, but he wouldn't let us help him up."

Blake also had the drive to be a top notch player. McKinnon said he would go over to the Lizotte's house and Blake was nowhere to be found. When he asked where Blake was, he would be downstairs shooting the puck or outside running the hills. "He had the willingness to take the initative to do the right things it took to become a better hockey player."

"Blake has a bit a sweet tooth," Lisa admitted, "But he changed that when he started to focus on hockey and changed his diet."

Blake was 14 at the time his father passed away and despite already being an exceptional athlete, all he could think about was how much he already missed his dad. "My dad always had us out in the summer, and I was already missing those days on the lake with him," Blake said.

McKinnon remembers one of the last times he spent with Mike. They were running a summer hockey camp and there were some young kids playing street hockey. A few boys got into a minor skirmish over a rule and Mike had to bring them all together.

"Boys, this is a game we get to play. We need to enjoy it because we only get a short time to play. Sports isn't your whole life," McKinnon recalls Mike saying to the boys, letting them know that there is so much more to life than just a game. It's a lesson the Lizotte boys got from day one and a lesson that would stick with them.

Lisa and the boys began the coping process early. "We have faith in Jesus," she said. "We know, down to the core, that we'll see him again. We wish he was here with us now, but we know there is a plan and we will be reunited."

All three boys supported each other. They were always close, but the tragedy pushed them even closer. "The boys not only supported each other, but they supported me," Lisa said.

Not only did the Lizottes find comfort in their faith and family, the community really rallied to offer support and help them grieve. "The community was great to us. Our hockey family, our church family, Mike's teaching family," she listed. "Our families were always there for us and made sure life was going to be okay."

McKinnon's fourth child, Marshall, was born just two days after Mike's service, and Lisa said that was an early reminder that life was still happening around them and that life would continue to happen.

As Blake's freshman hockey season crept closer, he knew it would be a tough time without his father, but he also remembered that key lesson his dad taught him -- that there was more to life than just sports.

"Before, I was just so focused on sports and if I had a bad game or match, I would let it affect me for a long time," he said. "But I realized that it's just a game. It doesn't mean everything and there's more to life than that."

"Mike always taught his boys that there was so  much more than sports, but his passing really brought that to the forefront," McKinnon said.

That winter, playing with a heavy heart, Blake earned Chisago Lakes' hockey 2013 Rookie of the Year Award as a freshman after tallying 27 points, second on the team.

He continued that high achievement level into the spring tennis season. He manned the third singles position for the Wildcats, who made it to the Section 7AA Championship.

"I just wanted to continue doing what my parents taught me," Blake said about his seasons after his dad's passing. "They always instilled in me to be a hard worker."

Blake continued to build on his athletic achievements, including a successful sophomore campaign in the 2014 hockey season that saw Blake finish second for the Wildcats with 40 points, including 11 goals and a team high 29 assists. He also helped  the 'Cats to only their second state tournament appearance in school history.

In tennis, Blake played second singles all year and helped the Wildcats to their first Mississippi 8 Conference championship.

In the summer between his sophomore and junior seasons, Blake decided to get some work in with Minot Minotauros of the North American Hockey League. He wasn't planning on staying with the team, he just wanted to stay sharp over the summer and fall.

In August, Blake headed out to Minot, but by November, plans changed drastically. The Minotauros liked what they saw so much from the dynamo in a small package that they asked him to stay for the whole season.

He called everyone back home. Family, friends, former coaches, more friends, and he came to a consensus that he'd stay out in Minot.

"It was a really big decision. Not being able to play with my friends made it really tough and I knew moving on would be a big challenge," he said.

Lisa added, "I absolutely had concerns. Our family is very close. I'm all for my kids venturing off, but Blake was only 16 and this took us by surprise a bit. This is something where Mike would've known what to do."

But, Lisa talked with the Minotauros coach, Marty Murray, who Blake would be living with, and her concerns were calmed. "Marty is an amazing man and he was the key for me letting Blake go out there."

With blessings from back home, Blake stayed out in North Dakota, eight hours from home, and began to shine for the Minotauros.

Through his first 39 games in the 2014-15 season, Blake has scored 43 points, including 11 goals and 32 assists. He's fifth in the NAHL in points, second in assists and second in plus/minus with a plus-27 rating.

The Minotauros are atop the Central Division, and tied for third in the 24-team league.

He's adapted to the speed of the game and the bigger size of the players at a rapid pace. "I've always been the smallest guy on the ice, but I just keep my head up and I've found a way to play my game," he said. "I just see the ice and pass the puck. And I don't ever stop working hard."

McKinnon realizes that hard-working attitude comes from Mike and that although Mike has passed in body, all three boys, Brett, Brock and Blake, have him with in principal and in spirit. "As Blake has grown up and faced manhood without his father, his priorities have become much more evident. Faith, family and friends are what's important to him, hockey and his other sports are farther down the line."

Lisa said she's been able to visit Blake twice, once over MEA break and once over Thanksgiving, and that she's really enjoyed watching him play. "It's a great town and the team is very well run."

Blake, who is the youngest player on the Minotauros by almost nine months, and one of the youngest players in the league, follows a strict schedule to allow time for hockey, but also for his schooling. Blake was always home schooled by his mom, so he's used to an altered schedule. Lisa said she checks up on his school work through the internet and makes sure he is doing his homework and doing it properly.

He said the Minotauros have a hard practice in the morning and then he gets his schoolwork done mostly in the afternoon before the team usually has a light workout or game at night.

Most of Blake's teammates are graduated from high school, but he said they still help him adjust to the schedule and allow him to be a young guy. "They really point us in the right direction and are very helpful," he said.

The progress he has made hasn't gone unnoticed. Last week, Blake committed to play college hockey for St. Cloud State, a top-flight Division 1 program.

Despite interest from multiple Division 1 programs, Blake knew where his heart was. After all, both Lisa and Mike attended SCSU. "I wanted to stay close to home, and it was also big to me that my parents went there," Blake explained. "I loved the campus, the rink, the whole school. I was always looking at St. Cloud."

Blake also brought his brothers along on his college visits, and they came to the consensus. "Blake goes to his brothers to talk through a lot of things," Lisa said. "They rely on each other so much."

"Blake is so mature beyond his years and his humility is a big key to his success and the reason he is going to St. Cloud," McKinnon said, noting that humility was another one of Mike's virtues. "In our culture today, it has almost become required to have a cocky presence about you to succeed. Blake is an example that you don't. He's a man who handles himself with class and grace."

Blake said he knew his father would be excited to know that he's attending St. Cloud State and playing hockey. "He'd be a very proud dad," the youngest Lizotte said.

"Mike would be so happy that Blake realized his dreams," Lisa said. "He'd be proud of his character and how he's able to do the right things the right way."

"Mike would be proud, but he would be humble," McKinnon said. "I truly believe that if I was able to go up to Mike today and say  'Congrats on Blake committing to SCSU', Mike would say 'It's so awesome for Blake, but someday we're going to see your boys doing that same thing.' He'd bring others along for the ride and give others a chance."

Blake will be a shoe-in for the NAHL Top Prospects Tournament in Ann Arbor near the end of February, and his career will continue after that. Since he's only a junior in high school elgibility, he is guaranteed to play one more year of junior hockey. He figures he will probably play for two more years to hopefully gain some size for the next level, but he will work with St. Cloud on that decision. The USHL will be an option for Blake going forward, also, but he is just enjoying his time in Minot for now.

Blake's time at Chisago Lakes may not be done, however. Boys tennis practice starts March 23 and the NAHL season ends less than a week later on March 28. He hasn't made a decision yet, saying he wants to take it one sport at a time, but he may suit up for the Wildcats this spring and put his best effort in, which is all his dad would've wanted.

"He always just told me to play for God and give your best effort," Blake said of his father.  That mentality and effort instilled by his dad has gotten Blake a long way. But, his journey in life is just beginning, and Mike's spirit will be with Blake through every step.


---
October
SUN
MON
TUE
WED
THU
FRI
SAT
Today's Events
No calendar events have been scheduled for today.
October
SUN
MON
TUE
WED
THU
FRI
SAT
Today's Events
No calendar events have been scheduled for today.