July 23, 2015 at 12:01 p.m.
Chisago Lakes' own Hills and Sperl earn spots at Motocross National Championship from Loretta Lynn's Ranch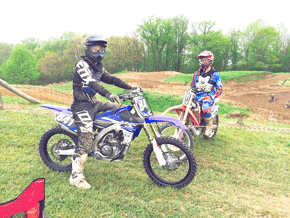 ---
Chisago Lakes High School seniors Evan Hills and Brenden Sperl just made their dreams come true.

The two dirt bike racers have qualified for the largest amateur motocross race in the world, the 34th Annual Rocky Mountain ATV/MC AMA Amateur National Motocross Championship presented by AMSOIL at Loretta Lynn's Ranch. Hills and Sperl took on over 20,000 hopefuls from across America to each earn one of just 1,483 qualifying positions.

"The Amateur Nationals at Loretta Lynn's is the event every motocross racer in the country wants to compete in," said Event Director Tim Cotter. "A win at the Amateur Nationals gives a rider instant national notoriety and can serve as a springboard to a lucrative professional motocross career."

Most of America's top professional motocrossers have won AMA Amateur National Championships at Loretta Lynn's.  The race is so prestigious that, in 2013, race coverage was aired on NBC for the first time ever.  In 2015, the coverage only gets better  streaming live from on RacerTV.com throughout the week and will be broadcast later in the fall on NBC Sports Network.  

Visit mxsports.com/broadcasts for details.

Hills started racing at the age of seven and has competed locally and regionally for the last 10 years. On June 7, Hills qualified for Loretta's at RedBud MX in Buchanan, Michigan, and has been training in Texas to prepare for the nationals since that time. Hills has support from his mom and dad, grandparents, and Ray Stoner with SOS Manufacturing, Inc.

Sperl has been riding since age five. In 2010, he started racing in AMA District 23 (MN). Sperl earned his national spot at the Millville regionals held in June. Recently, he got the opportunity to train with motocross professional Christian Craig. Sperl receives ongoing support from his parents. His national sponsor is Paragon Pools & Spas, in Willernie. (paragonpoolandspa.com).

At the end of the month, Sperl, who wears number 15 and Hills, who dons the 84 jersey, will make the long journey to Tennessee to compete in the 250 C Limited and 250 C classes. The Amateur National Motocross Championship runs July 27 through August 1.

These two are among over 20,000 motocross racers who spent the last four months trying to qualifying for the event. Racers may enter a wide variety of classes, from minicycle classes for children as young as four, all the way up to a senior division for riders over 50. There are also classes for women and classes for both stock and modified bikes.

The track is built on a section of Loretta Lynn's Ranch and Campground in Hurricane Mills, Tenn. The course contains a variety of jumps, corners and other obstacles designed to test the skills and stamina of the racers.

Most riders attend the event with the help of their families. Besides races, the ranch provides family-friendly facilities including a game room, swimming pools, arts and crafts activities as well as a fashion and talent show.

About the Rocky Mountain  AMA Amateur National Motocross Championship
The national qualifying program consists of 59 Area Qualifiers (February through May) and 13 Regional Championships (May through June), hosted at select motocross facilities across the country.

The qualifying system culminates in the National Final (last week in July) hosted annually since 1982 at the home of country music star Loretta Lynn. Christened "The World's Greatest Motocross Vacation" the National event has served as a launch pad for some of the biggest names in professional motocross and supercross, including Ricky Carmichael, James Stewart, Ryan Villopoto, and Ryan Dungey. The national program is produced by MX Sports, Inc., and sanctioned by AMA. For more information, please visit www.mxsports.com.
---
June
SUN
MON
TUE
WED
THU
FRI
SAT
Today's Events
No calendar events have been scheduled for today.
June
SUN
MON
TUE
WED
THU
FRI
SAT
Today's Events
No calendar events have been scheduled for today.