September 7, 2017 at 3:35 p.m.
Minnesota's industrial hemp research and development program developing roots at organic farmstead here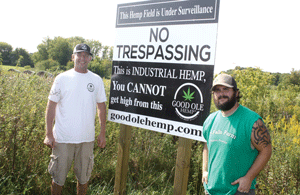 ---
A local organic farmer is partnering with an ag entrepreneur from the St Cloud area with the aim of bringing back industrial hemp as a major player in Minnesota's alternative crop economy.

Industrial hemp has suffered under several decades of unearned disrespect and crippling regulations, but if  the success of those working on its resurrection to be judged only on enthusiasm and energy it appears a promising venture.

Walking a harvested field of industrial hemp last week with Josh Helberg and Stefan Egan, their outlook is contagious.  
Pioneers wouldn't be over-describing their attitude.

Hemp was harvested in this state in 2016-- for the first time since the 1950s.  Approximately 40 total acres were cut at six pilot fields.  One ag operator who participated in last year's first fields was Josh Helberg, owner of Good Ole Hemp.  

In this current growing season he affiliated with an organic farm operation outside of Taylors Falls,  in a state hemp research and development pilot program that was expanded to 42 sites.

Statewide there's 2,200 acres being grown,  including the four and a half acre test plot at T Fall Organic Farm.  

Applications from ag operators who may be interested in participating in 2018 through the state Dept. of Agriculture, will be ready in November.
MDA, under a directive from the legislative and an appropriation,  created an industrial hemp research pilot program in order to study the growth, cultivation and market for industrial hemp.  The Minnesota commissioner of ag wrote the program rules, determined the fee structure and oversees performance testing and other regulatory activities.

Industrial hemp was a traditional crop in the U.S. well over 100 years ago, but because it was erroneously associated with marijuana-- regulations made it virtually disappear as a viable commodity.  Industrial hemp at one time was made into rope, woven into carpet-size mats, and turned into fiber for fabric much like linen, among dozens of other uses.

Industrial hemp is defined as cannabis sativa L. and contains barely a trace of the component that provides a marijuana "high."  Plant composition in the Minnesota program is limited to  less than one-half of one percent delta-9 tetrahydrocannabinoid.  
In short--it will not give you a buzz.

Over the past decades,  Egan says what has happened to this wonder crop is a travesty.  Industrial hemp is what farmers call 'soft on the land' and is actually good for the soil.  And yet, animal operations are not allowed to use industrial hemp as animal feed,  even though it provides beneficial omega oils and tons of protein.  

Food-grade processing has been off limits, with openings only recently appearing with changes in regulations.  

An organic mulch made of industrial hemp stem debris (called hurd), and sold in Europe as "Hemp Spex," is restricted in availability here. There's no reason it should be, Egan stated.  He uses it abundantly under his organic tomato and pepper plants and can talk at length about how great it is.

Helberg explained he grew up on a dairy farm, and describes how industrial hemp right now is like being a dairy farmer in a world where there are no shiny chrome tankers traveling farm roads picking up milk, no creameries, no processors of ice cream or yogurt, or butter.  Plus, you can't even advertise some of what you produce.  

 But, if there is to be an industrial hemp economy again, somebody like Helberg is needed to connect supply and distribution.  It also needs farmers like Egan who care about replenishing the soil and promoting crops that don't need chemicals.  

As a former member of an elite military corps, if Egan carried any value with him into this chapter of his life, it is the value of team work.  "It'll take everyone working together," he says of this promising market.

Meanwhile, the research continues.  

The pilot field here in Chisago County didn't produce the results hoped for, which Egan will be the first to admit.   His pulls up a stray stalk and points to the taproot important to healthy industrial hemp.  

The mulch, however,  is proving magical.

T Falls Organic Farm has contracts with restaurants and farmers' markets to provide them with peppers, tomatoes and some herbs. Using the mulch this summer has reduced his need to irrigate by two-thirds, and increased yield.  

Helberg has this quirky smile, as if he knows something you don't and he can't wait to tell you.  He sees nothing but opportunity and thinks the timing is ideal.  

An after-product he can't wait to make available is  hemp seeds. They are gluten free and full of fiber, and are ideal for snack food. They can used as "flour" for baking, as a salad topper, etc.  

The weight to protein ratio in the seeds makes them efficient to eat and transport.  

Helberg has big plans for a roasting facility for seeds and is active in a three-county food hub, near where he's based in central Minnesota.  



 







---
June
SUN
MON
TUE
WED
THU
FRI
SAT
Today's Events
No calendar events have been scheduled for today.
June
SUN
MON
TUE
WED
THU
FRI
SAT
Today's Events
No calendar events have been scheduled for today.