November 14, 2019 at 4:24 p.m.
The agony and ecstacy of the state tourney
Stewartville spoils North Branch's championship repeat bid in five sets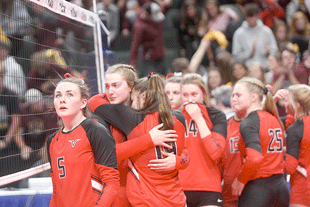 ---
With great expectations can come great disappointments, and the North Branch Vikings volleyball team felt that sting of disappointment after their five-set state championship loss to Stewartville on Saturday, November 9.    

The thrilling match took place at the Xcel Energy Center and saw North Branch trying to defend their state title that they won last year against the top-seeded Tigers.

The Vikings got off to a fast start in the first set of the championship match. Leading 6-5, the Vikings went on a 7-2 run to extend the lead to 13-7. They did it with Stewartville committing costly mistakes and effective play from their senior stud Cianna Selbitschka and sophomore middle hitter Paige Peaslee.

The Tigers, who are chock full of seniors, fought back to within two points at 13-11, but North Branch ran off five of the next six points to keep them at bay. The Vikings had to weather one more storm in the first set as Stewartville trimmed the lead to two, but Peaslee and Selbitschka teamed up to shut the door with a 6-3 run to win the set 25-20.

The set couldn't have gone more perfect for the Vikings. They stayed in system, featured a balanced attack that wasn't too reliant on Selbitschka, and kept Stewartville off balance, which affected their play.

"We kept them out of system and what we got back from them was usually from the back row," Head Coach Mike Selbitschka said when explaining the Vikes' success in the first set. "Winning game one was a great advantage, however, we know it doesn't mean it's done and over."
Selbitschka and Peaslee both had six kills in the set and it was a great start for the Vikings.

Stewartville Head Coach John Dzubay noted how good NB's serves were in the first set. "They served really tough and we were not passing," he said. "We were struggling to get anything in system and when we're out of system, we're not great and they are a fantastic team and took advantage of that."

But, there's a reason the Tigers were ranked number one throughout most of the season. Their two-headed attack of senior outside hitter Kaitlyn Prodzinski and junior middle hitter Erin Lamb started to put their kills down with authority, working around the Viking block. The set stayed close through the first half, with Stewartville keeping a one-two point lead, but after a Selbitschka kill put the score at 11-10 in favor of the Tigers, Stewartville proceeded to go on a 9-3 run to extend their lead to 20-13. North Branch never got very close again in the set as the Tigers cruised to a 25-19 win to even the title match at 1-1.

"They definitely got more in system after game one and were able to feed their big hitters more efficiently," Selbitschka said after that match.
In the third set, Stewartville started to impose their will on North Branch. They were limiting Peaslee, who didn't have a kill in the second or third set, and that was forcing the Vikings to rely on Selbitschka even more than normal, and the Tiger defense was ready.

The offense for the Tigers also took advantage with some out-of-system play by the Vikings, as Lamb and Prodzinski continued to bring the heat. But, Stewartville started to add even another wrinkle to their offense in the second set, with senior Lily Welch starting to work tips in against NB's defense, which was playing deep to combat Prodzinski and Lamb.

Welch had just two total kills in the first two sets, but she would put down 10 over the last three sets, a majority of them tips, and the Vikings really struggled to defend them.

"I didn't expect the tips. With the big hitters they have, I just didn't see it," Selbitschka said. "Stewartville's girls made a nice adjustment and call on those."

North Branch's defensive specialist Macy Brodin noted how tought they were to defend. "With them, you had to be ready for everything. They come at you hard with the hits and then some super short tips," she said. "It's difficult to keep the weight on your front toes and still just be ready for anything."

On the winning side, Dzubay confirmed that it was Welch who was making the calls on her own for the tips. "Lily is a great player. We saw the tips maybe a little bit but we weren't doing it very much because you can't think too much in volleyball. You just have to have it in you to know when to do that," he said. "Lily got a bunch of them, and that's defeating. You're defending like crazy and all of a sudden, these tips are coming over. It's just defeating because you're doing your job defensively except for that part and it's hard."

Stewartville ran away with the third set, 25-16, and it looked like the Vikings were in trouble. But, they were used to playing for their tournament life. In last year's run, they faced elimination points in each match, and fought them off each time, so battling with their backs against the wall was nothing new to this squad.

They proved that in the third set, racing out to an 8-3 lead. Stewartville worked to get back in the game and did pull to within one point on a couple different occasions, but the Vikings wouldn't quit.

With the Vikings leading 22-21, Lamb made a crucial service error to give NB a two-point lead, and kills from Selbitschka and Reagan Irons finished the set off 25-23 in favor of NB. That set up a fifth set thriller between the two teams for the right to be called the 2019 Class AA State Champion.

Stewartville grabbed the early lead with two unforced Viking errors sandwiched by two Lamb kills. That put the score at 6-3 in favor of Stewartville, but NB got the next two points on an Irons kill and a Lamb error.

From there, it stayed within two points until 10-8. Three errors in a row by North Branch, including two attack errors and a setting error, gave the Tigers a 13-8 lead and what looked like an insurmountable lead. Through that point, a few of the North Branch players had issues with some of the referees calls on the errors, and Mike Selbitschka didn't disagree with them after the match, saying, "I'm never going to say a ref made a bad call that cost us the game," he said. "We have to manage the game better and control our game no matter what the call is, but I would say there were some calls that I thought the girls really made a great effort on and it was a lot tighter than I hoped."

It seemed like North Branch's nickname should've been changed to some cat variation for a minute, though. They were grasping for what seemed like their ninth life when they ran off four straight points give their team some life at 13-12.

But Lamb, who was named to the all-tournament team after the match, smashed back-to-back kills to send the massive Stewartville fan section and her fellow teammates into a frenzied celebration. Meanwhile, North Branch and their large contingent of fans were left stunned and disappointed. They could only look on sadly as the Stewartville team flooded onto the court into a hog pile of joy.

"We have a lot of grit and these girls gave it everything they had and this was one of the best battles they've been in," Selbitschka said.

For the game, Selbitschka had 33 kills, leading everyone on the court. Peaslee had nine kills and Irons had five. Sheehan had 48 assists.

"It was a hard fought match and Stewartville is a really good team," Cianna said after the match ."They have tall players with a big block. You have to hit around it and spread out the offense and find holes. They read very well where the ball was going and we had troubles getting past them."
For Stewartville, Lamb had 21 kills, Prodzinski 18 and Welch 12. Jaidyn Brower had 46 assists as the Tigers' setter.

The loss ended the high school volleyball careers of seniors Kylie Kline, Galytea Pierce, Selbitschka, Emily Benedict, Katie Anderson, Kristi Pilz, Haley Hadrava and Macy Brodin. The heralded group of girls has been on an unprecedented run for North Branch athletics, with three straight state championship game appearances, including one title and finishing runner up two other times.

Selbitschka said, "My time here has been amazing. A state title and two runner ups is a great accomplishment and I don't take any of that for granted. Every team I've been on, the girls are amazing and fun to be around and I wouldn't trade it for the world."

Brodin remained positive despite the loss, also, saying, "I think for the past three years, everyone has worked their butts off and there's not anything we would change. Everything happens for a reason and this is just how it played out."

Selbitschka, Sheehan and Peaslee were named to the all tournament team after the match for North Branch.

North Branch 3, Pequot Lakes 0
North Branch 3, Belle Plaine 2
The Vikings navigated their way to the finals with wins over Pequot Lakes and Belle Plaine in the quarters and semis on Thursday, November 7 and Friday, November 8.

North Branch made quick work of the Patriots from Pequot Lakes, a small city just north of Brainerd. They fell behind 2-1 in the first set abut then went on an 8-2 run and never looked back, winning 25-20. The Patriots never got within two points after that initial lead.

In the second set, Pequot Lakes started serving and lost the point on a Peaslee kill, and Kline went on one of the longest serving runs in recent state tournament memory. She had four aces mixed in with Selbitschka and Irons' kills as well as Pequot Lakes errors, and by the time she was done serving, North Branch had a 13-0 lead, which is nearly unheard of in rally volleyball, much less the state tournament.  North Branch eventually coasted to a 25-11 win in the second set.

In the third set, the Patriots kept things a little bit closer, sticking within a couple of points to 17-15, but North Branch ended the set and the match on a 8-3 run, and won 25-18, knocking Pequot Lakes to the consolation bracket and moving the Vikings on to the semifinals.
Selbitscka had 21 kills, Peaslee had eight, Hadrava had seven and Sheehan had six to go along with 33 assists.

Against Belle Plaine, who was the surprise of the tournament, North Branch had a tough time handling outside hitter Mikayla Coops, who was named to the all tournament team after the championship game, but ended up coming away with the five set win.

The Tigers were unseeded coming into the tourney but knocked off second-seeded Marshall in the first round. They were aided in the fact that Marshall's best hitter, Paige Andries, broke her hand in practice just a few days before the tournament and couldn't get back in time to play.

They took advantage of that and beat Marshall in four sets. Against North Branch, they put up a similar effort and almost knocked off the Vikes.

North Branch won the first set 25-19 before losing the second set 25-18. The Vikings rebounded for a win in the third set 25-20, but Belle Plaine wouldn't go quietly, as they won the fourth set 25-23. That put a spot in the championship game in the race to 15 in the fifth set. The Vikings, who have a ton of experience in long matches on the biggest stage, showed up early in the deciding set, building an 8-2 lead. Belle Plaine made a little run to get it to 9-7, but North Branch's experience eventually guided them to a 15-9 win.

Selbitschka had 28 kills and Peaslee had 15. Sheehan had 48 assists. The North Branch block was the star in this win, with Peaslee helping to stuff seven, Sheehan and Selbitschka aiding on four each and Hadrava, Irons and Benedict helping on two a piece.
---
December
SUN
MON
TUE
WED
THU
FRI
SAT
Today's Events
No calendar events have been scheduled for today.
December
SUN
MON
TUE
WED
THU
FRI
SAT
Today's Events
No calendar events have been scheduled for today.