April 10, 2020 at 9:39 a.m.
Family honors late father, husband as a fighter who was full of faith and lived for family
Wyoming resident Scott Melter passed away from COVID-19 on April 1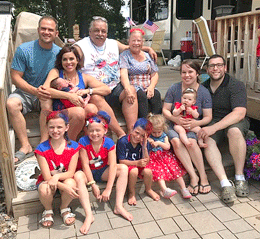 ---
Scott Melter was the life of the party. The dad you looked up to. The boss you wanted to work for.

He was a beacon of hope and a pillar of strength for his family. But on Wednesday, April 1, Melter's life was taken far too soon when he passed away from COVID-19.

"My dad was the kind of guy who had a comforting personality and you always felt immediately loved and welcomed by him," his son Mike said. "He touched people in all different facets of his life."

The 60-year old Wyoming  man had recently returned from a trip to Mexico with his daughter Krystal Pearl, and her family. He and his wife, Treva, boarded their connecting flight in Atlanta to head to Jacksonville so they could drive to their winter home in Ridgeland, South Carolina, about two hours north of Jacksonville.
Not long after getting to South Carolina, Melter's family, including Mike and Krystal, decided it'd be best if he came back to Minnesota to be closer to his family. As a lung cancer survivor and chronic obstructive pulmonary disease (COPD) sufferer, the family knew that if he contracted COVID-19 at any point, he'd be in some trouble. "We knew it'd be tough for him to get through it if he got it," Mike said. "And that it'd be through the grace of God if he did get it and survived."
Unfortunately, on the drive from South Carolina to Minnesota, Melter began to feel ill. He didn't think he had COVID-19, reassuring his family that his symptoms didn't match the well-known symptoms at that time.

On March 25, the Melter's made it back to their house in Wyoming and Scott was feeling worse. He told his family he wanted to sleep it off, but Mike and Krystal insisted that he go to Fairview Hospital in Wyoming to get checked out. "He had shortness of breath and was starting to cough more and more," Mike described. After a call to the nurse line in Wyoming, Melter was on his way to Fariview where they administered a test for COVID-19, among a battery of options, ruling other ailments out.

"An hour after he went in to Fairview, my sister and I called him and told him we loved him," Mike said emotionally. "And that's the last time we were able to talk to him until the end."

Melter was transferred to Fairview Edina that night and put on a ventilator to help his lungs function. By March 28, the test result came back positive and Melter was immediately moved to Bethesda Hospital in St. Paul, which is a facility specializing in only COVD-19 patients currently.

By April 1, it was clear to Melter's family that he wasn't going to make it. "We had been praying the whole time for a recovery, and a little faith can move mountains at times, but he was very sick," Mike said. "The ventilator settings were at the highest it could be and the lungs just weren't getting enough oxygen. He was at risk of a lung rupturing and suffering and we didn't want that for him."

Mike, who was able to be at  Bethesda Hospital in full personal protective gear, got to FaceTime his family in to say their goodbyes to their father in what he said was an emotional time.

Despite being at the hospital, Mike had to stand outside of his father's window when the ventilator was turned off. He said that his father didn't take a breath after the machine was off. "He was very calm and comfortable when he passed away," Mike said.

Mike praised the staff at Bethesda for their treatment of his father. "There was a nurse in with him with her hand on his chest, brushing his hair, and there was a nurse outside with her hand on my shoulder during the whole process. Mike tried to find any beacon of positivity at that moment and noticed that the nurse manager comforting him had a Green Bay Packers watch on her wrist, telling her, "my dad was a huge Minnesota Vikings fan. He might not like that watch."
Despite Scott losing his battle with COVID-19, Mike insists that it's not the end. "We believe in God and Jesus Christ and we will meet again," he said. "Even when he had cancer, our dad would tell us 'God has this. It's in his control.' and we've been able to lean on his strength, even in tough times."

Scott's life has touched so many throughout the years. He was a veteran of the Army who had two children and six beloved grandchildren. He married Treva Boatright on May 26, 1984. He worked in the communications industry and retired just last year as the Vice President of Engineering at Comcast, and was an avid traveler and Minnesota Vikings fan. He raised his family around Minnesota, including Maplewood, Cottage Grove, Lindstrom and then Wyoming for the past three years.

Mike and his family have stayed positive in the wake of Scott's passing. They've received many comments and stories about their father's life.

 "All of the comments on how he impacted people in life and spiritually has just been amazing. He was loved by many," Mike said.

With case numbers increasing locally, state-wide and internationally, Mike felt it's  important to tell his dad's story. "The virus is sobering. There's a story and name behind the statistics, and the support we've received since my dad's passing has been overwhelming."

Because everything moved at a frenetic pace, Scott didn't get much of a chance to reflect on scripture for his fight, but Mike said when their dad was battling lung cancer, they leaned on Romans 8:28-30, and he thought it was appropriate to this day, in his father's honor. "And we know that in all things God works for the good of those who love him, who have been called according to his purpose. For those God foreknew he also predestined to be conformed to the image of his Son, that he might be the firstborn among many brothers and sisters. And those he predestined, he also called; those he called, he also justified; those he justified, he also glorified."


---
October
SUN
MON
TUE
WED
THU
FRI
SAT
Today's Events
No calendar events have been scheduled for today.
October
SUN
MON
TUE
WED
THU
FRI
SAT
Today's Events
No calendar events have been scheduled for today.