February 20, 2020 at 2:33 p.m.
Three area gymnasts heading to state with two section champions
Chisago Lakes' Claudia Stipe wins the beam title while North Branch's Paige Bauer tops the vault field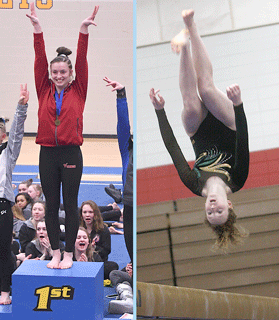 ---
The culmination of a year's worth of work came to a head at the Section 7A gymnastics meet on Saturday, February 15 at Big Lake High School.

After it was all said and done, three area gymnastis -- Claudia Stipe and Elsa Leopold from Chisago Lakes and Paige Bauer from North Branch -- are headed to the state tournament on Saturday, February 21.

Stipe had the best performance among them, qualifying for state in the all around and winning the championship on balance beam with a person best score of 9.375. She also knocked our her personal best on vault with a 9.425, catapulting her to third in the all around with a score of 36.075.

"We've been waiting for many weeks for her to finally hit her vault in the meet," Head Coach Brett Kjos said. "She always looked great in practice but needed to do it in a meet. What a great time for her to hit!"

North Branch's Bauer also nailed her vault performance, and she's been in the mid-9s all year, so she knew with a solid performance she'd have a shot at winning the section title, and she did just that. She scored a 9.550, just beating Riley Norberg of Becker by .050 points.

"After struggling on floor a little bit just before vault, Paige pulled it together for an amazing vault," North Branch Head Coach Katie Krampitz said.

Leopold had a strong beam routine to come in fourth and just grab a spot in the state tournament. "She nearly fell on one of her big skills.  Just looking at it from afar, you really could not tell but after she finished, she said she was so close to falling," Kjos said after the meet. "It was great to get her back to the state meet after a one year absence.  She was solid on both the bars and floor.  She had a fall on her Tsuk on the vault so her all around score was not as high as we had hoped."

Kjos detailed some of his other gymnasts' routines at sections:

"Violet Doolittle had an awesome meet.  She has been working so hard on upgrading her skills for this meet in the past month.  She competed on three events, vault, beam and floor.  She tied her PR on vault and set new PR's on beam and floor.  What a meet.
"On the beam, we placed second overall at the meet.  Only had one fall, which did not count against our team score.  The rest stuck their routines.  No falls.  Ann Nelson became our lead-off on beam because she always seems to stick her routines.  She was so solid and just missed setting her own PR by one-tenth of a point.  Awesome way to start off our beam rotation because sticking on beam seems to be contagious this season.  


Probably the fewest falls over the season as I have ever had.

"Karley Aki missed the meet due to the flu, so we had to substitute a couple of JV gymnasts into the line-up.  Caty Larson set a PR on the uneven bars and Emma Wakefield competed the first time on the balance beam at the varsity level. They both did a great job filling in for Karley.

"McKenna Keene had what I thought was her best routine of the season on floor.  Since she was the first girl to compete in the meet on floor, I expected for the judges to be very tight with their scores.  And they were.  Even the she did not receive the score she wanted, it was a great routine.

"Lily Grabow had a solid bar routine and had one of her highest scores of the season.  She added a new, more difficult skill on the high bar and it was executed to perfection.  So fun to watch."

Overall, Kjos hoped to get a third gymnast into the state meet, but with the level of competition, he was happy with two.
"It was nice to get two girls through this tough section meet.  They both had outstanding seasons.    I would expect them to be in the top half on their events, but we'll see. Now the fun begins at the state meet.  What a time for them!"

As for the rest of the North Branch team, the day turned into a tough meet of near misses. "We started on balance beam and we were very optimistic that it wasn't a disadvantage, but we still had a hard time managing the adrenaline," Krampitz said, as the Vikings have struggled all year on the beam. "The Wildcat sounds effects on the floor exercise and the Big Lake teammates cheering loudly for their bar routines were tough to manage for our girls."

Bauer nailed her routine, scoring a 9.050, but there were falls in all of the other runs, which was a tough start for NB.

The floor exercise went much better for the rest of the girls, with both Dakota Esget and Bekah Fish scoring over a 9.050, but Bauer stumbled on one of her moves, leaving them a little short of the score they wanted.

On vault, Bauer was the highlight, but Esget wasn't far behind with a 9.30, mising out on state by just one-tenth of a point.

Both Esget and Fish had great uneven bars routines, finishing in sixth and seventh place. Most years, their scores may have gotten them through to state, but both Big Lake and Monticello feature multiple talented bars competitors. Three of them put up scores over nine while two other Monticello gymnasts scored over 8.925.

"Both Kota and Bekah's bar routines were beautiful," Krampitz said. "It just seemed like small tenths all meet kept us away from another competitor or two at state."

For the girls that did move on, they'll head to the University of Minnesota on Saturday, February 21 to take part in the indvidual state meet. Section 7A opens with the vault where Stipe and Bauer will perform, then moves to the uneven bars for Stipe, and then the balance beam for both Stipe and Leopold before Stipe's finale on the floor.
---
December
SUN
MON
TUE
WED
THU
FRI
SAT
Today's Events
No calendar events have been scheduled for today.
December
SUN
MON
TUE
WED
THU
FRI
SAT
Today's Events
No calendar events have been scheduled for today.