November 13, 2020 at 1:51 p.m.
CL board unable to provide proverbial lifeboat to fall activities; potential primary school renovation taking shape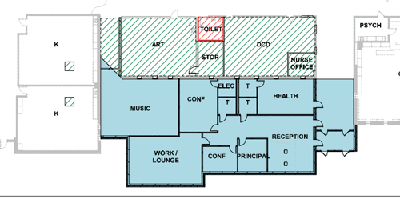 ---
With the remainder of the football and volleyball seasons hanging in the balance, the Chisago Lakes School Board had a decision to make at their specially called meeting on Thursday, November 5.

Multiple public speakers, including both the volleyball and football head coaches, pled their case to be allowed to continue to play despite the district moving to all distance learning because of COVID-19 cases eclipsing 50 per 1,000 people in Chisago County and nearly 100 students at the high school on quarantine. The speakers cited physical and mental health, as well as the social aspect of sports and activities. Many said their children were struggling with being away from school and athletics.

Lori Berg, who chaired the meeting because regular chairman Mark Leigh was in quarantine and attended remotely, explained that the decision was not really theirs to make. She said the guidelines from Governor Tim Walz' order require activities to be called off when the cases hit a certain threshold.

Chisago County had long since passed that threshold with over 67 cases per 1,000 people.

Berg said the guidelines of not allowing activities are not just a suggested policy, but can be enforced by law. Berg quoted Governor Walz' Executive Order 20-82, saying, "Districts and charter schools must comply with local and state health guidelines and as a result, the guidance and executive order have the force of law." She emphasized the must when reading the order.

"Legally speaking, it has the same force as a law would have," she continued. "So for those that think we have local control over activities, we actually don't have the power to do so."

She also noted that the example of other districts -- Anoka Hennepin being the oft-cited one -- continuing activities, does not apply the same to Chisago Lakes. She said when those districts made those decisions, their counties were under the 50 cases per 1,000 threshold. They were voluntarily moving to full distance-learning despite not being required to, so they were able to keep activities going. Chisago County's case numbers dictate that the district must move to full distance.

Berg said she would love for a way to be able to continue fall activities in person, but it was wasn't possible. The rest of the board echoed that sentiment, saying it was a tough decision, but it was really taken out of their hands.

They voted unanimously to not allow in-person activities while the district is in an all distance model, which is planned until at least December 2.

That effectively ends the football and volleyball seasons. Both got off to late starts because of COVID-19-related shutdowns already, so the 2020 football season will end with one game played and the volleyball season with three games played.

The board also took action on winter sports. The earliest start date was supposed to be  dance on November 9, with boys hockey starting on Monday, November 23 and many more following on November 30 and December 7.

Despite having a target goal of potentially returning to a hybrid model on December 2, the board, in discussion with Activities Director Jodi Otte, favored pushing the start back for all sports to mid-December. That would put them on track to have two weeks of practice prior to a January 4 start date  for actual competitions after Christmas break. Otte said with the winter season being longer and the MSHSL building in a make-up week at the end of the season, rescheduling winter events would be a bit more forgiving than fall.

The recommendation was passed unanimously by the board.

They, and superintendent Dean Jennissen, stressed that the county numbers need to be moving in the right direction for the plans to work. If individual building numbers are low enough, the district can also return sooner, potenitially, but with everyone being out of the buildings, there will be no building-specific numbers to report. Leigh wondered how that would work with empty buildings, and Berg said that is something they'd have to consult with the Minnesota Department of Education on.

Jennissen said that it would start with requiring communication and working with the parents to self-report any issues. "During our high school shutdown in October, there was quite a bit of connectivity between parents and administration to make sure we were able to identify those things, but I couldn't say it was 100 percent participation between all those involved," Jennissen said. High school principal Dave Ertl did note that out of the positive cases at the high school throughout the year, all but one were allowed to be identified to the school so they could work on contact tracing. He said that one family did not allow the name, age or gender of their student that tested positive to be released back to the high school, which made it impossible to do contact tracing for that particular case.

The primary school got a preliminary look at a potential renovation project.

"We're updating you on preliminary conversations on enhancements to the primary school from leftover funds in the bond referendum, the sale of Lakeside and long-term facility maintenence dollars," Jennissen said to the board. "This is a plan that would put primary school in much better position to deliver their daily services."

Representatives from Wold Architects were on hand, saying, "Overall, we've been talking about a potential project at primary for year and a half. We're not here for approval, just an update. We haven't gotten in to the meat of a schedule or timeline, but what we did do was identify a few items that were undersized, including intervention and student support spaces.

They continued, "This plan supports a nine section K-1 building moving forward, but that building is designed as eight section.
"There's different options on how we can utilize the building, but there is also spaces that are inadequate, including restrooms. They really never been updated since being put in and are not currently ADA acceptable, including hand washing stations."

The plan would renovate nearly every bathroom and create two new teaching spaces as well as a new administrative office spaces. According to the Wold representatives, preliminary  numbers for the currently diagram are roughly  $3.2 to $3.5 million for construction, and closer to $4 million after all would be said and done.

They also noted that it's an extremely lucrative market right now with public sector renovations, saying, "Private sector work has been put on hold, so the only work that's really out there is stuff in public section. Stuff that already had funding, and we are continuing to see good bids."

Jennissen said the timeline is to comeback at the next board meeting with some finished details and a better idea on cost and funding and looking for board approval. He did say that didn't mean the district was for sure going forward with the project, but they'll want to see a full plan.

Director of Business Services Robyn Vosberg-Torgerson went over the CARES Act funds that the district has received. Between the Education Stabilization Fund and the Coronavirus Relief Fund, the district will receive just over $1 million. About $200,000 from the ESF and $830,000 from the CRF.

She explained that though the funds sound broad, they aren't. They are only for expenses "if not for COVID."

She went on the explain that the funds thus far have been used for safety and sanitation, including PPE and additional cleaning in the buildings and buses, staff and student devices, software and hotspots, staff development, meal delivery and tier one childcare.
Jennissen also added that they've added pretty large pieces of custodial equipment to make their custodians much more efficient. "Very thankful for these funds," he said. It's been a good process of determining funds."

The district has until November 13 to allocate 75 percent of the funds before they are reallocated to other districts. Vosberg-Torgerson said they were on pace to do that. The final deadline to spend down the allocation is the end of the year.


---
October
SUN
MON
TUE
WED
THU
FRI
SAT
Today's Events
No calendar events have been scheduled for today.
October
SUN
MON
TUE
WED
THU
FRI
SAT
Today's Events
No calendar events have been scheduled for today.