November 13, 2020 at 1:29 p.m.
North Branch stages another dramatic comeback against Cambridge-Isanti before cruising past Big Lake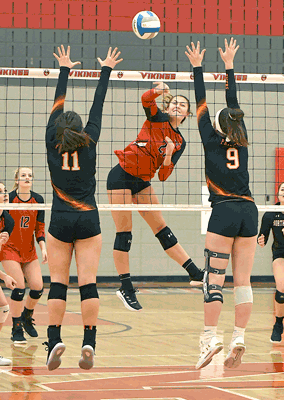 ---
North Branch 3, Cambridge-Isanti 2
North Branch already had one nail-biting comeback earlier this year when they were down 2-0 against Big Lake, only to come back and win the next three sets, including a dominating 25-9 win.

On Monday, November 2, the Lady Vikings needed another ridiculous comeback to keep their loss tally at just one. The dropped the first two sets to Cambridge-Isanti by a tally of 25-22 and 25-23. Both were close affairs that could've gone either way, but the Bluejackets did just enough in both to get the wins.

On the brink of losing to the Jackets for the first time in nearly five years, North Branch came out with a set for the ages. They absolutely smoked C-I in the third set, winning by a near-unheard of score of 25-5.

They kept that rolling well into the fourth set, when they won 25-18, and at that point, the fifth set seemed academic. North Branch sealed the come-from-behind victory with a 15-8 win in the fifth set.

North Branch 3, Big Lake 1
A sluggish start was not in the cards for the Vikings this time against the Hornets. The two teams squared off on Thursday, November 5 at Big Lake in a rematch from just a few weeks ago.

The first two sets had a razor-thin margin. North Branch came out on top in the first one, 26-24. Big Lake returned that favor in the second set, winning 26-24 to even the match at one apiece. That's when North Branch's offense took over a bit and brought them the victory. They won the third set 25-19 and finished a flailing Hornet squad off 25-15 in the fourth set.

Paige Peaslee really shined for NB, getting a season-high 17 kills from the middle. The junior also added six big blocks. Lindsey Bunes had one of her better games this year with nine kills, and jack-of-all-trades Maddie Helin had eight kills and three aces. Paige Sheehan led the girls with 34 assists, four aces and five blocks from the setter position.

North Branch 3, Princeton 0
As the Vikings troop on through the season as M8C teams drop around them, they earned another sweep to move their record to 8-1.
They beat Princeton handily, 25-14, 25-17 and 25-18. Bunes led the offense with 11 kills, Peaselee had nine kills and three blocks and Sheehan had an uncharacteristically high nine kills to go along with her normal dose of helpers at 28.

The Vikings get their second crack at Monticello on Thursday, November 12. The Magic are currently unbeaten and the only team that has beaten NB this year. After that, the Vikes' schedule is in flux as Becker and Chisago Lakes, two of their next three opponents, have ended their seasons.
---
October
SUN
MON
TUE
WED
THU
FRI
SAT
Today's Events
No calendar events have been scheduled for today.
October
SUN
MON
TUE
WED
THU
FRI
SAT
Today's Events
No calendar events have been scheduled for today.