March 11, 2022 at 9:49 a.m.
Opdahl makes history, closes career with third straight state diving title
Nord comes in third, Stiles in fourth as CL dominates dive meet again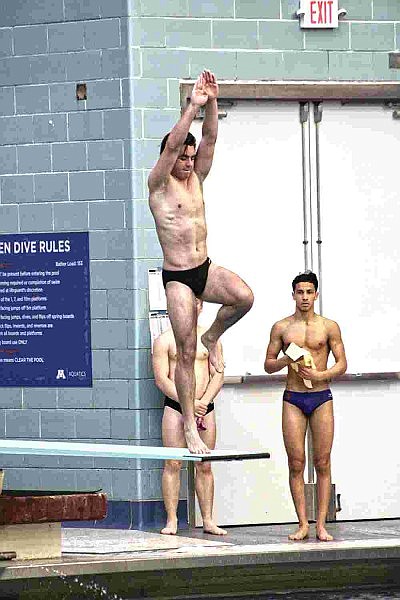 ---
Storm Opdahl knew this state dive meet was going to be his toughest yet, and he was spot on.

The Chisago Lakes senior wrapped up his third straight state diving title, and held off a hard-charging Dakotah Parker from Monticello for a narrow victory in his final meet for the Wildcats.

Opdahl scored 478.15 points and Parker, also a senior, scored 477.15 points. The margin of victory was by far the smallest of Opdahl's run of titles.

Opdahl had built a big lead through the semifinals, with 332.2 points. Parker was in third with 309.7 points, but he had some of his biggest dives left, so Opdahl knew he would have to hold Parker off with some impressive technique of his own.

"I definitely knew I had to put together my best to keep the lead over him," Opdahl said. "He's a great competitor and I knew he'd bring his all in the finals."

He did just enough to score his highest point total of his career at a state meet and hold off the late run by Parker.

"Dakotah is a very talented diver and it was great having him back this year," Head Coach Bri McClaskie said of the competition.

"Our duals against Monticello are always the ones we look forward to the most because we know it's going to be a great meet. It was a major bummer having him out last year and we were very happy he was back this year."

Opdahl credited his teammates Jimmy Nord and Tobie Stiles, and his coach Bri McClaskie for much of his success.

"I don't think Storm, Tobie, or Jimmy put much thought into what scores anyone else put up at sections. Our plan has always been to dive to the best of our ability and to measure success by personal improvement. It's not us against anyone else, it's us against ourselves. If you're continually improving that means much more than just measuring success by winning," McClaskie explained. "We went into state focusing on executing a great 11 dive list and that is exactly what they did. They competed at the state meet just like they practice every day."

"Our coach has always told us we are lucky that the best competition in the state is right in our home pool. Having teammates like Jimmy and Tobie has been great. We all push each other everyday to get better," he said. And I have to give a lot of credit to coach Bri. I wouldn't be near the level I am without her, she's been an amazing coach and I will miss her a lot next year."

Opdahl's diving journey at Chisago Lakes may be over, but he'll continue his own path next year at Missouri State University, a Division I swimming and diving school.

Nord and Stiles also kept their impressive streaks in tact as well. Nord, a junior, finished in third place, his third straight top three finish. Stiles, a senior, finished in fourth place, running his consecutive podium finish to three after finishing in eighth as a sophomore and third as a junior.

Nord scored a 464.20 in his impressive 11 dive routine and Stiles, who has been alternating between competitive gymnastics and diving all season, scored a great 440.80.

Chisago Lakes again flexed their depth not just in Class A, but the whole state. At the top of the meet, the Class A scores were much higher than Class AA. Opdahl, Parker, Nord and Stiles were head and shoulders above the rest of the divers in Minnesota, regardless of class.
The diving squad willed the Wildcats to a 15th place finish in the team event in Class A.

"I can't explain what a pleasure it has been to coach Storm, Tobie, and Jimmy. They are a coaches dream. They show up everyday with a great attitude and wonderful work ethic. They have done everything I have asked of them, even when they think I'm off my rocker. To see the growth and improvement they have made in the last four years has been awesome. That is what coaching is all about," McClaskie concluded. "We were actually watching videos of Jimmy and Storms first year of diving on the way down to the State finals on Saturday. It was insane to watch those videos knowing where they are now and what they have accomplished in four short years. I am going to miss Storm and Tobie next year more than I would care to admit but I can't wait to cheer them on and watch them continue to succeed in college. I know they are ready and will excel as students and collegiate athletes. As a coach, that makes me feel better than anything else. I have gotten to watch them grow into adults and I know they are ready for what's next. That's what it's all about."
---
September
SUN
MON
TUE
WED
THU
FRI
SAT
Today's Events
No calendar events have been scheduled for today.
September
SUN
MON
TUE
WED
THU
FRI
SAT
Today's Events
No calendar events have been scheduled for today.