November 4, 2022 at 2:28 p.m.
CL girls X-country team makes history with first state meet berth
Three individual boys also headed to state tournament from Chisago Lakes and North Branch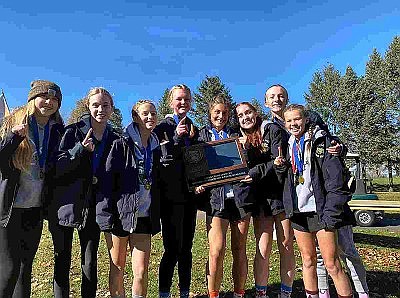 ---
The top two teams in each section make it to the state cross country meet each year, but there's a bit of extra prestige to capture the championship, and the Chisago Lakes girls team accomplished that on Wednesday, October 26 at the Section 4AA meet at Highland Golf Course.

The section championship and state berth is the first ever for the girls cross country program at CL, and it was spearheaded by two underclassmen.
Sophomore Kaia Osmundson dominated the meet, finishing in 19:14 in first place. Seventh grader Annika Hall also blew away the rest of the competition in second place. She finished in 19:24. The third place finisher was senior Sarah Brings of Mahtomedi, who claimed the second team berth, and she finished in 19:55, over a half minute behind Osmundson and Hall.

But, there are five runners that make a team score in cross country. Osmundson and Hall's first and second were a great start, but they still needed some other high finishers as Mahtomedi placed three girls in the top seven.

Junior Lainey Hallan and senior Maya Aadland provided great supporting scores, finishing back-to-back in 12th and 13th place. Hallan crossed the finish line in 21:34 and Aadland finished in 21:40.

Although Mahtomedi put another finisher in at 16th, the 'Cats got two more great finishes in 17th and 18th place from Lauren Kowarsch and Ava Bringgold. Kowarsch, a freshman, finished in 22:04 and Bringgold, a sophomore, finishing in 22:16.

Kowarsch's finish officially punched the Wildcats' ticket to their first ever team state tournament berth, sending them into a wild celebration.

"This is quite an honor for the girls," Head Coach Tyler Stettler said. "When you have Kaia and Annika go one-two, that's huge and great for our team. Our number three, four and five runners ran so great together and pushed each other and it helped us get the win. They've all been working their tails off and they are a wonderful team to coach. We're on the rise here and we're going to keep getting better."

The 'Cats needed all the points they got too, as they won the meet with 41 points. Mahtomedi tallied 48, so they were not far off.

The Wildcat boys team also sent two to state. Biruk Killeen will make his state tournament debut and Henry Johnson will be returning as the pair finished in a dead heat in seventh and eighth to qualify. Killeen came in at 17:10.3 and Johnson 17:10.4. Eighth grader Remy Larsen wasn't far from the top 12 qualifying. The eighth grader finished in 16th place with a time of 17:44

For North Branch, Jordan Stumm highlighted the Section 7AA championship meet at Hibbing Municipal Golf Course on Thursday, October 27 with his first career state tournament berth.

The sophomore finished in eighth place on the boys side of the meet, crossing the finish line in 17:27.2, which was a personal record for him.



---
November
SUN
MON
TUE
WED
THU
FRI
SAT
Today's Events
No calendar events have been scheduled for today.
November
SUN
MON
TUE
WED
THU
FRI
SAT
Today's Events
No calendar events have been scheduled for today.