April 27, 2023 at 12:50 p.m.
Spencer reverses course, resigns from school board
The clerk said he was staying on the board at the regular meeting last week before reversing course four days later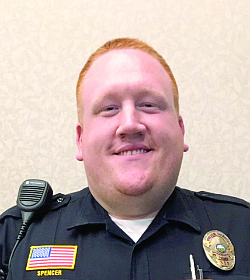 ---
On Monday, April 24, Chisago Lakes School Board member Cory Spencer submitted his written resignation to the board.
Superintendent Dean Jennissen provided a statement , saying, "In March, the District received a complaint about Cory Spencer. This is a personnel matter, and consistent with the District's data privacy obligations under the Minnesota Government Data Practices Act, the District may not disclose private personnel data. The District, however, can confirm that it fully investigated the complaint, and the complaint is now closed. Mr. Spencer is not currently serving as a substitute teacher or volunteer coach in the District."
In his e-mailed statement to Board chairman Lori Berg and Jennissen, Spencer said, "It appears that my presence on the board has become a distraction and barrier to getting work done for our students. It saddens me that it has come to this. I have spent most of my life working as a public servant and advocate for kids. Please accept this e-mail as a formal notification of my immediate resignation from the Chisago Lakes School Board."
The move was an about-face for Spencer after he addressed the allegations during the open forum portion of the regular Chisago Lakes School Board meeting on Thursday, April 20.
Spencer, employed by Lakes Area Police,  elected to reveal the results of the school district's completed investigation into allegations made against him.
He said he fully cooperated with the investigation and that he wanted to show transparency regarding the incident in an effort to maintain the public's trust in the school district and in him as a board member.
He admitted that the district's investigation determined that he had violated policies regarding excessive social contact between staff and students and transporting students in a non-authorized personal vehicle. Spencer also confirmed that the district has excused him from any substitute teaching and all other paid or volunteer services to the school district.
Despite the district's determinations, Spencer emphasized that the allegations were not criminal in nature and at the time, remained steadfast that he is still an active board member and "that remains unchanged until such action by the board as a whole is made," he had said.
Spencer closed his statement by saying, "Actions on my part have only ever been intended to help and support kids. I would never do anything to compromise that."
When the district first announced that Spencer was under investigation in March, Spencer voluntarily stepped away from board activities at that time. He resumed his board activities, however,  in a midday April 13 special board meeting to vote to approve new superintendent Brian Dietz's contract.
After Spencer's remarks, two other speakers addressed the board in regards to the matter. "Before you tune me out thinking I'm only here to cause problems, please know that I am not. I am here to talk about problems for others tonight," former student Taryn Lappe said as the first speaker after Spencer. "I was always taught that if an adult makes you uncomfortable with their words or actions, that you should say something. If an adult, regardless of their title, ever asked me to take pictures or if males are around me, I would bring it to someone's attention."
Ashley Newman then addressed the board and revealed that she had made the formal allegations against Spencer on behalf of her daughter, a student at the Chisago Lakes Middle School."My daughter was subject to inappropriate contact by a substitute teacher, school board member and local police officer," she said. "Over the course of several months, this person was having conversations with my daughter on the social media app Snapchat. In those conversations, the board member calls her pretty, invites her to his home, requests pictures of her and inquires about her whereabouts and who she's with and what she's doing.
" In addition to the contact, the person also took my daughter, without my permission, in his vehicle, to Starbucks. When she was working at the hockey arena, he would give her free food, hug her, and rub her back and shoulders, which made her uncomfortable.
"With all this said, I request the board reconsider the position of Cory Spencer," she concluded.
Chief Deputy Justin Wood from the  Chisago County Sheriff's Office confirmed they had investigated the matter but it was now closed, and they found nothing to support criminal charges.
Newman did state that her now 14-year old daughter had gotten a harassment restraining order against Spencer from the district court on Tuesday, April 18. In it, county judicial referee Nicole Kralik ruled there were reasonable grounds to believe that Spencer, the respondent, "used social media to harass petitioner with repeated unwanted and inappropriate communications via Snapchat; messaging the minor child about her looks, her friendships with boys, and asking her to come over to the [Spencer's] house. Respondent exploited a position of authority to continue the harassment."
Kralik's ruling also included that "the harassment has or is intended to have a substantial adverse effect on the petitioner's safety, security or privacy."
Spencer is to have no direct or indirect contact with Newman's daughter and is barred from being within two blocks of her home or the Chisago Lakes Middle School. The order is for two years, but Newman said she would have it updated in the fall to reflect her daughter advancing to the Chisago Lakes High School.
Spencer did have support at the open forum of the board meeting, with district resident and parent Amanda Bushweiler saying, "I can understand how it looks from an outside perspective. If I didn't know Cory as well as I do, I would certainly have questions. But I do know Cory. I know the way he relates to these kids and how many of these kids consider him more of a friend than a coach, teacher or officer," she said. "Cory is not only the most servant-hearted person I know, he is the most caring and considerate person to a fault. There are numerous kids Cory has brought to Starbucks or candy stores or to any event that they want to go to because that is who he is and what he does. I urge you all to not jump to conclusions. I urge you to take a moment to see he's just a man with a giant heart — a heart of a kid — who maybe didn't consider how reaching out on Snapchat didn't exactly translate right. Please don't ruin my friend's life over this misunderstanding." 
Spencer went on to participate in the rest of the meeting, but early this week, he had submitted his e-mailed resignation. With almost a full four year term left in the position that just started in January of this year, the school board will now have to decide if they want to have a special election to fill the seat, or appoint someone. 
Sarah Aadland, who was appointed to replace Melissa Donovan when she resigned from the board in the summer of 2021, was the next highest vote getter in last November's election, with 3,722 votes, just 155 votes shy of being elected herself.
---
December
SUN
MON
TUE
WED
THU
FRI
SAT
Today's Events
No calendar events have been scheduled for today.
December
SUN
MON
TUE
WED
THU
FRI
SAT
Today's Events
No calendar events have been scheduled for today.