April 28, 2023 at 11:23 a.m.
---
During the one warm-up  in weather we had early in the season, the Chisago Lakes boys lacrosse team squeezed in two home games, both double digit beatdowns of their opponents.
Chisago Lakes 15, Hermantown/Proctor 5
"We didn't know what to expect for this first game with Proctor/Hermantown coming down.  We've had some good battles with them in the past and last year they had a couple good quality wins," Head Coach Mark Nordby said before the contest. 
The game started out with a solid score by senior captain Kadin Melin off of a feed from senior Ari Phillips just over two minutes into the game.  "We'd been stressing patience and not trying to force the ball.  That was a nice play by those two attack players," Nordby noted.
Senior face off specialist Mason Mehsikomer picked up the next goal with win at the center of the field and called his own number to drain the ball at the back of the net.
The Wildcat's final goal of the first quarter came off a carry up the field by freshman long stick middie, Austin Slettom, who made a great pass to Melin who then found a wide up open sophomore Ben Kerkow right on the doorstep of the goal.  "That's a great team goal," Nordby exclaimed. "That's exactly the type of play we like to see out of our players; great passes and looking for the dunk."
With the score 3-0 in favor of the 'Cats, Proctor was able to get a couple of goals back to close out the first quarter. 
Senior Owen Fitzgerald got things rolling in the second quarter after he snatched a deflected ball out of the air and drilled one past the goal keeper from 10 yards out.
Sophomore middie Jake Haseltine scored one of this three for the evening on a dodge past the defender and a great running shot to put the Cats up 5-2,  "Jake had a really nice night and is finding his role on the team," Nordby said. "That was great to see Jake step up and play big for us."
The Wildcats closed out the first half with an aggressive sweeping shot and goal across the top by junior Judah Goehring and another by Melin.  The Wildcats went to halftime with a 7-3 lead.
"We were in control of parts of the first half, but like in other sports, things can change quickly. Coach Cory Reedy told them that we want to 'play fast but don't be in a hurry' which is great coaching," Nordby said after the match .
The defense clamped down even more led by seniors Nate Bluhm and Logan Short, shutting the Rails to just two more goals for the game.  
Meanwhile, in the third quarter, the Wildcats got going with a put-back goal by Haseltine and another goal by senior Ari Phillips from a feed by Melin. 
The 'Cats put in three more goals in the third quarter by Mehsikomer, Phillips and Ben Kerkow.
Senior Cullen Dorcas got on the scoreboard with a nice alley dodge and rightie shot to put he cats up 13-4 and sophomore TJ Kofler scored his first varsity goal on a great dodging leftie shot from eight yards out.  To close out the game, Haseltine got another put-back goal for the hat trick.
"It was a good team win and one to get the cobwebs swept out and those first game jitters out of the way," Nordby said. "The guys really settled into the game and we're playing good team lacrosse."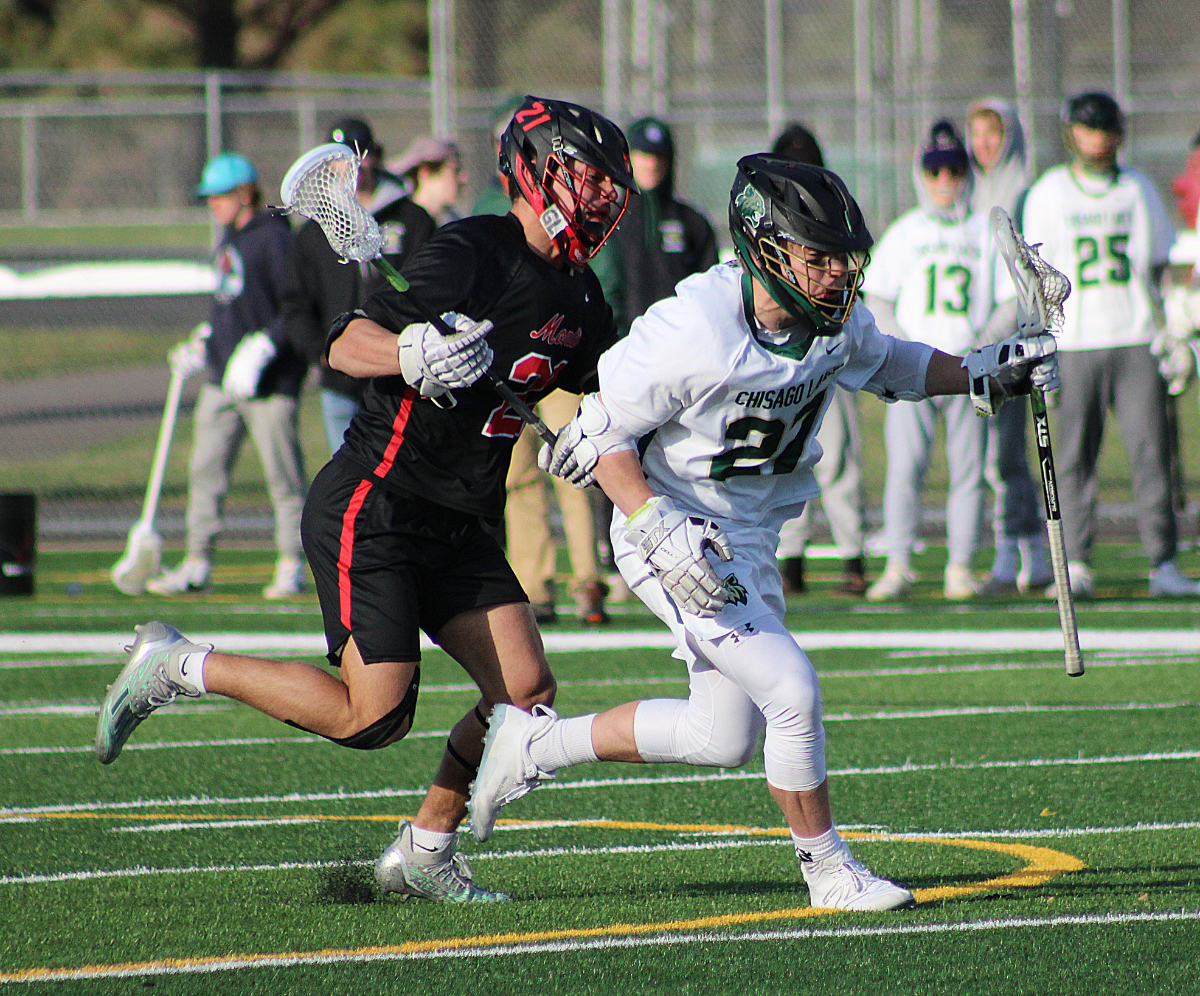 Chisago Lakes 15, Monticello 2
The Wildcats earned an even bigger win against the Magic on Monday, April 17. 
"Each year we're not sure which Monticello team is going to play.  We've had some fierce battles with them but also had some lopsided wins.  They always are physical though and we were expecting that out of them," Nordby said.
Phillips and Melin were on the same page early and both poured in goals as the Monticello defense and goalie where overwhelmed.
"We had some players really step up their game. Ari  was a scoring machine tonight and had his best game of his high school career.  He has really found his place on the team and is becoming a force for us around the net," Nordby said. "And Kadin is starting to let the game come to him.  I think in the first game of the season, he was forcing things a bit, this game he looked in control and really seeing the goal or teammates.  Kadin really has been a great leader for us this season."
The pair combined for 10 goals and five assists against Monticello. Other goal scorers for CL were  Kerkow with two, and Mehiskomer, Max Bobrowski and Goehring with one each.
That onslaught led to some frustration from the Magic goalie, who was screaming at his defense from the first goal on, and was very animated throughout.
"Once we saw their goalie getting mad and pounding his stick after getting scored on, we kept on the gas and didn't let them back in," Nordby noted. "The guys took care of business. This is the type of game that could get out of control when there is a lopsided victory and emotions can start to climb for the team that's down. I thought the refs did a good job of keeping it going and we had great self control."
---
October
SUN
MON
TUE
WED
THU
FRI
SAT
Today's Events
No calendar events have been scheduled for today.
October
SUN
MON
TUE
WED
THU
FRI
SAT
Today's Events
No calendar events have been scheduled for today.