August 4, 2023 at 2:15 p.m.
---
John Reed, of Gibsonia, Pennsylvania, has willpower that most could only dream of. He took a day out of vacationing in Minnesota and visiting his girlfriend to compete in and win the Chisago Lakes Triathlon on Sunday, July 30. 
This version, the 18th in Chisago City, was the last time it will be held at Paradise Park, and it went out with 245 competitors.
Reed, 25, was near the top of the finishers in each of the three disciplines. He was the second fastest swimmer, finishing the 1.2 mile triangular route in 27:03, just behind Sam Larson's time of 26:51. Larson finished fifth overall.
Reed officially took the lead during the transition between the swimming and biking, as stripping the wetsuit off and gearing up to bike can be an arduous process. He began to extend his lead early in the 56 mile trek over Larson, but 46-year old Lakeville native Dan Arlandon hit the pedals just a bit harder and surpassed Reed during the bike. Arlandson was the top biking finisher in a time of 2 hours, 13 minutes and 10 seconds. Reed was second in 2:19:20. His transition time again was fast, as he trimmed one full minute off of Arlandson's lead, and then once the soles starte to hit the pavement, Reed went to work. He was the seventh fastest runner on the day, finishing that leg in 1:28:25 while Arlandson ran the 13.1 mile course in 1:34:27, a great time, but not enough to hold off Reed, and he finished in second place. Reed;s winning time was 4
In third place was longtime CL tri competitor Anthony Jagielo, a 32-year old from Carver. Fourth place was Peter Wikman of St. Louis Park, and fifth place was Larson, who hails from Stillwater.
For the women's finishers, 33-year old Caryn Herrick of St. Louis Park broke through to win her first Chisago Lakes Triathlon after coming in second place last year. She trimmed eight minutes off of last year's time and ran away with the race. She was the third best swimming, the second best biker and by far the fastest runner on the course for women. Her total combined time of 4:40.50 was over 14 minutes faster than second place finisher Amy Hite of Cottage Grove. Brie McSherry of Lakeland was third, Emily Pincus was fourth and Cheryl Jeseritz of Savage was the fifth woman to cross the finish line.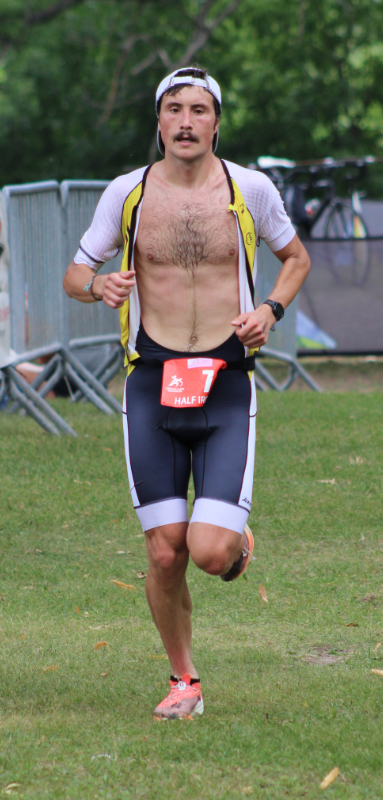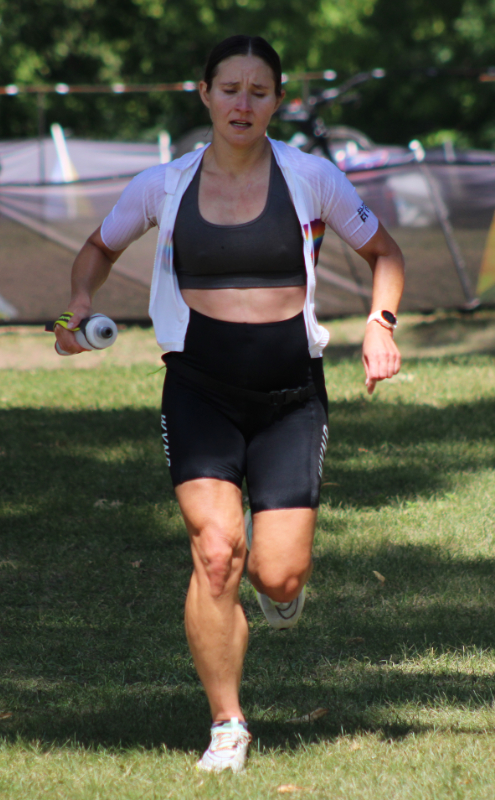 Local finishers
A couple of transplants who grew up in the area highlighted local finishers. Cale Arhart, 32, of Stillwater came in 22nd with a time of 4:48:44. Arhart graduated from Chisago Lakes and was the boys hockey coach for a few years. Carl Osterberg, who was repping his Chisago Lakes' green and gold throughtout the race, but now calls Duluth home, came in 24th with a time of 4:49:59.
Tyler Schuler of Wyoming finished 65th with a time of 5:24:18. Matthew Kangas of Chisago City finished in 90th with a time of 5:40:29. John Frischmon, 26, of Center City, came in 92nd with a time of 5:41:16. Don Wiger of Chisago City finishing in 5:57:19, good enough for 114th place. Kristina Audette of Stacy was second in her age group, as the 27 year old finished in 6:05:58 in 135th place. 37-year old Paul Scheierl came in 157th place in 6:18:31. Jana Swenson, 40, of Chisago City finishing in 197th in 6:48:40. David Nelson of North Branch finished in 8:08:57 to finish in 242nd place and Della Antisdel of Stacy finished in 245th. The 56 year old finished the race in 8:23:51, a commendable achievement.
---
October
SUN
MON
TUE
WED
THU
FRI
SAT
Today's Events
No calendar events have been scheduled for today.
October
SUN
MON
TUE
WED
THU
FRI
SAT
Today's Events
No calendar events have been scheduled for today.