June 8, 2023 at 6:42 p.m.
---
Andrew Swanson has been Chisago Lakes' top golfer all year, and he saved some of his best for last in the Section 7AAA meet the past week.
During the first round on Thursday, June 1 at Grand National Golf Club in Hinckley, Swanson started on the 14th hole and after an opening bogey, he drilled back-to-back birdies to get to one under par. He played three over par the next 10 holes before sinking another birdie putt on nine to get back to just one over. His last four holes were an adventure, with a birdie sandwiched between three bogeys, but his score of 75 (+3) was comfortable enough to qualify him for the second day of sections, along with freshman teammate Max Koch, who shot a 77.
During the second round on Tuesday, June 6, Swanson started out blazing. He birdied the first hole, third hole and fifth hole and was three-under par on the front.
He then birdied 11 and was potentially on track for a career day and even threatening for the section championship. 
Unfortunately, bogeys on four of his last seven holes stopped that momentum, but his even round of 72 was more than good enough, coupled with his first round, to earn him a berth in the Class AAA state meet at Bunker Hills Golf Course Tuesday and Wednesday, June 13-14.
Swanson ended up finishing in a tie for sixth place with a three-over 147 over the two day event.
Anoka Tornado teammates Tyler Gandrud and Jack Schmitz tied for the championship with a four-under 140.
After his opening round 77, Koch couldn't quite keep the pace up in the second round.
The ninth grader ran into trouble on hole four, carding a nine on the par four, and his day was in jeopardy for that point on. He ended up shooting an 86 to score a 163 total.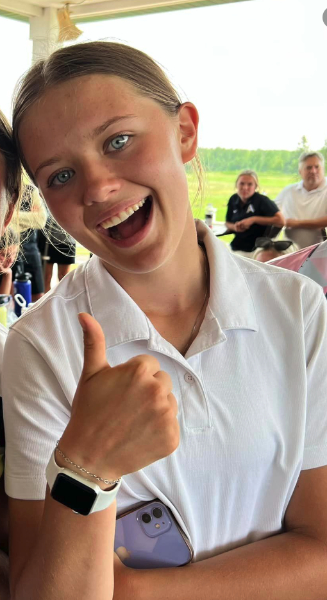 Girls
Sophomore Kali Hanson didn't have her sharpest game for the first round of the Section 7AAA girls golf tournament on Monday, June 5 at Grand National in Hinckley, but she fired a wonderful second round to charge up the scoreboard and earn her first trip to the state meet.
During the first round, she shot matching 44s on the front and back, and she just got into the second round by two strokes — all golfers that shot 89 and under qualified for the second day, and she was just happy to be there.
But then Hanson had an amazing second round on Tuesday, June 6. She started on hole 10 and despite not scoring any birdies on her first nine, she shot just two-over par, carding a 38 as she managed seven pars. She opened her back nine with two more pars before a rough stretch started to rock the boat as she went bogey-double bogey-double bogey over the next three holes to move from two-over to seven-over. But, she steadied the ship with a par on the 155 par three sixth hole before drilling a long birdie putt on seven to get back down to six over.
She parred the last two holes to finish the round with a 78, just six over for the day. It was the third best score for the day among all golfers and allowed her to leapfrog seven girls and move from 13th place to a tie for sixth place overall with a combined score of 166. The cut off for the state tournament qualification was 170.
Chisago Lakes' Haley Overgaard also qualified for the second day after shooting an 89 in the first round, but the section tournament unfortunately fell on the days that  Chisago Lakes had their graduation walk, practice ceremony, and all night party so the senior certainly had a lot on her plate, and golfed the second day on very little sleep. She wound up shooting a 93 on the second day to finish in 17th overall.
---
December
SUN
MON
TUE
WED
THU
FRI
SAT
Today's Events
No calendar events have been scheduled for today.
December
SUN
MON
TUE
WED
THU
FRI
SAT
Today's Events
No calendar events have been scheduled for today.