June 16, 2023 at 11:38 a.m.
---
Chisago Lakes 8, Centennial 6
The top-seeded Wildcats boys' lacrosse team avenged last year's loss to the Centennial Cougars in the Section 7 championship game by beating the second-seeded Cougars 8-6 in this season's section championship game Thursday, June 8 at Chisago Lakes High School.  This marks the Wildcats' second trip to the state tournament, with the first coming in 2021.  The Wildcats opened this year's state tournament against third-seeded Shakopee Tuesday, June 13 at Stillwater High School, losing 12-3 to the Sabres. However, they bounced back to beat Cretin-Derham Hall in the consolation bracket and will take on Moorhead in the consolation championship match on Saturday, June 17 at White Bear Lake High School
The Wildcats got off to a nice start in the first half against the Cougars, scoring four goals and clamping down on defense.  They led 4-1 going into halftime.  Wildcat head coach Mark Nordby said "We knew this was going to be an intense game with Centennial and we'd have to play well for all four quarters to beat them.  We've been starting slowly this year but knew we'd need to get up on Centennial right away."
Lacrosse definitely can have quick momentum swings and Centennial did everything they could to claw their way back into the game.  The Wildcats answered the Cougars' comeback with their own goals and kept a little distance between the teams on the scoreboard.  Max Bobrowski's behind-the-back goal with about three minutes to go was huge.  Nordby said "We needed a little boost as we could feel Centennial chipping away at the lead and that gave us enough space to close it out."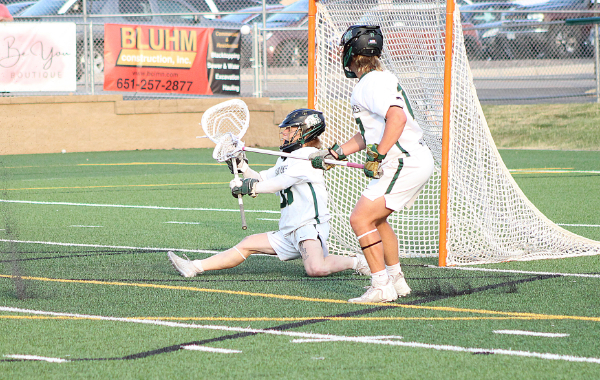 The defense played well for the Wildcats and goalie Dylan Peterson was dialed in.  Centennial put up 15 goals against Duluth, which is known for their defensive prowess, in the section semifinals.  For the Wildcats to only allow six goals on a lot of shots by the Cougars was impressive.  How did Peterson do it?  He said "To be honest, I don't know.  I was kind of just trying to stand on my head tonight to go to the state tournament."  Peterson is not as large as a typical lacrosse goalie but makes up for it in other ways. "A lot of guys aren't as fast with their hand-eye coordination," he said, "so I try to be as fast as I can, and I drop down as fast as I can or pop up where I need to."  
And he is excited about going to the state tournament.  Peterson said that there is "a lot of hard work we're going to have to put in, a lot of time and work, and we're not going to stop."
Nordby was proud of his players' performance in the game.  "The guys kept up the intensity for all four quarters," he said.  "I've seen games where we were up by a bunch of points and then the intensity starts to dwindle.  These guys gave it their all for the entire game.  I'm really proud of this group of players.  They've been dreaming of the Wildcats getting back to state and working their tails off in practices.  All that work paid off."
---
September
SUN
MON
TUE
WED
THU
FRI
SAT
Today's Events
No calendar events have been scheduled for today.
September
SUN
MON
TUE
WED
THU
FRI
SAT
Today's Events
No calendar events have been scheduled for today.