June 23, 2023 at 12:12 p.m.
---
For North Branch's Olivia Weyenberg, it was her last time donning the red and white of North Branch in competitive golf, but for Chisago Lakes' Andrew Swanson and Kali Hanson, and NB's Nick Melvin, the 2023 state golf meets were hopefully the start of some great futures.
Chisago Lakes
Swanson qualified for the Class AAA state met at Bunker Hills Golf Course in Coon Rapids on Tuesday and Wednesday, June 13 and 14.
He opened up with a wonderful score of 74, putting him in top 10 contention. He played a very consistent and steady front nine to open his tournament on the East Course at Bunker Hills. He had seven straight pars before a birdie on the hardest hole on the course, the par-4 eighth. A par on holes nine, 10 and 11 meant he played the first 11 holes under par. But, back to back bogeys on the third easiest and easiest handicap holes were a tough break for the junior. He then rolled in four more pars before bogeying 18 to finish the round two over at 74, tied for 12th with seven other golfers.
In his second round, he started on the West Course, and opened with a bogey. He went on to collect only one birdie on the day against eight bogeys and finished with a 79 to give him a two-day total of 153, good enough for 32nd at the state meet.
For sophomore Kali Hanson, her first experience at the state meet was positive, and although she started slow, she rebounded for a decent finish.
Despite a double and a triple bogey on the front nine, she hit a nice birdie on the long par 3 seventh and finished the front nine with a 44. On the back nine, though, she couldn't get the par train rolling at all. She ended up shooting a 49 to score a 93 in her opener.
In the second round, she did a much better job of limiting damage. She had only three double bogeys on the day, and even grabbed another birdie on a par 3, this time the third hole. She shot matching 43s to card an 86.
Her two-day total of 179 was good enough for 67th at the state meet.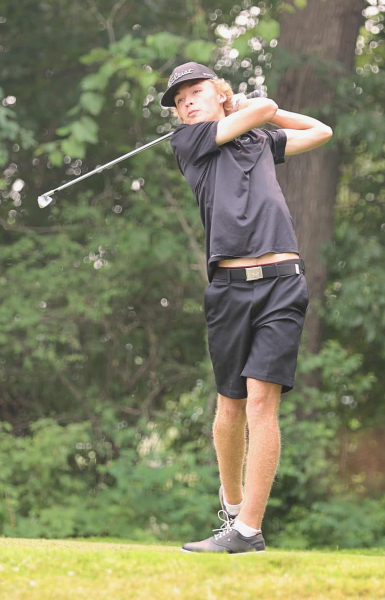 North Branch
Weyenberg went opposite of Hanson in her second state meet. She opened with a great 85 at the Ridge at Sand Creek in Jordan to earn a share of 34th place after day one.
The second round, however, was a bit of a grind for the senior. She shot a 96, giving her a two day total of 180. She finished in a tie for 46th place with two other golfers.
Nick Melvin made his state tournament debut at The Ridges at Sand Creek as the only seventh grader in the field. In fact, only three eighth graders were even in the field, and two of them qualified with teams, so Melvin was in rare air.
He carded an 81 on the first day and an 82 on the second day as he hit the ball consistently and stayed out of any big trouble.
His two day total of 163 was good enough for a tie for 48th place, but the future is very bright for the youngster.
---
December
SUN
MON
TUE
WED
THU
FRI
SAT
Today's Events
No calendar events have been scheduled for today.
December
SUN
MON
TUE
WED
THU
FRI
SAT
Today's Events
No calendar events have been scheduled for today.