May 4, 2023 at 3:37 p.m.
Wildcats remain unbeaten, topping Hill-Murray and Champlin Park
Stingy defense helps CL against tough teams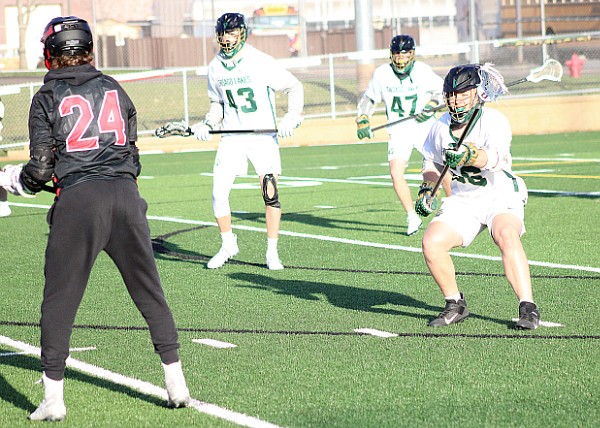 ---
Chisago Lakes 16, Hill-Murray 11
Chisago Lakes' perfect record remained in tact as they beat Hill-Murray 16-11 in the closest lacrosse game of the season so far.
On Monday, April 24, the two teams clashed at Chisago Lakes.
"We knew from last year that this would not be an easy game and we'd have to be ready for a real test," Head Coach Mark Nordby said. "On film, Hill-Murray was relentless on defense and pressed way out to defend.  We thought we could take advantage of this."
Senior Max Olson got things rolling for the Wildcats with a sweeping shot across the top and 10 yard lefty blazer past the goalie.  "There aren't too many defenders that can keep up with Max once he gets into his dodge," Nordby said.
Next, Ari Phillips took his turn from the right side after calling for the ball from teammate, Owen Fitzgerald, and nailing the left corner away from the goalie's stick.  "That was a good heads up to get the ball to the open man," the coach explained after the score.
After Hill Murray got a goal back, junior Judah Goerhing crushed one from 12 yards out after his defender left him too much space.  Nordby said the coaching staff doesn't usually want guys taking shots from 15 yards out, but Judah was left all alone and he saw an opening for his shot and it worked out.
After more battles and defensive stands, senior Kadin Passeretti performed one of his stick tricks with a great fake pass back to a teammate to get the defender to bite, then a step down shot from the left side. "It's just how Kadin's brain works, it's just automatic to do some of these moves to free himself up to take a shot," Nordby explained. "He's tough to defend."
The final goal of the first quarter came on a great dodge by senior Cullen Dorcas, who passed down to attackman Phillips, who then found a cutter toward the goal, sophomore Jake Haseltine, to bury the ball into the net.  Nordby marveled at the execution of the play. "That's about as beautiful of a play as you can draw up," he said. "These guys are well connected and understand team ball."
After two more goals by Olson and Haseltine, senior defender Nate Bluhm got onto the stat sheet when he sprinted down the left hashmark and buried the ball past the goalie for a rare defender goal. "Nate has the green light when he gets the ball in certain places.  He's tough to stop once he gets into his sprint and he's got great stick skills," Nordby said. "We trust him on the offensive end with the long pole."
In the third quarter, the Cats put in five goals to make it 13-9 going into the fourth quarter.  Going on a scoring deluge, Phillips put in four.  "Ari was in the zone and was finding space between defenders. He had a great night," Nordby said.
A four-point lead going into the 4th quarter is a close game in lacrosse.  Momentum swings and some mental lapses can create a quick turnaround.  "We made a few mistakes late in the game but finally calmed down, protected the ball and got the win," Nordby concluded.
Chisago Lakes 9, Champlin Park 4
Things didn't get any easier for the 'Cats on Thursday, April 27 when they took on Champlin Park's Rebels in their first away action of the season.   
"We knew they'd had a nice start to their season and they play quality teams each year," Nordby said of CP, who the Wildcats had never played. "We saw on film that they were a lot like Hill-Murray and really liked to press out on defense."
Phillips got the first point with a put-back goal off a deflection from a sweep across the top shot by senior Dylan Dassner.  Once again, Phillips was in the right spot to make good on the goal. 
After the first quarter, the score was 1-1.
Goals by Passeretti and sophomore Ben Kerkow in the low-scoring second quarter gave the Wildcats a 3-2 lead going into the third quarter.
In the third quarter, the offense found the net first in a great face-off win and sprint by Mason Mehsikomer to feed down low to Kerkow, who then found a wide open Passeretti on the left crease to dunk it.  
"Mason lost the first two face-offs of the game, then made adjustments and won everything after that," Nordby said. "That's super valuable for a team to have a quality face-off player to get the into our offensive end.  Mason really played well."
Going into the fourth quarter, the defense had kept Champlin Park to just three goals and ended up only giving up one more.  
"Our defense with Logan West, Nate Bluhm, Dain Gibson, Wyatt Grilz, Nick Jinx, and Austin Slettom played huge in this game," the coach explained. "But, the best defender for us was senior goalie Dylan Peterson. It was his best game by far. He was dialed in to every shot."
---
October
SUN
MON
TUE
WED
THU
FRI
SAT
Today's Events
No calendar events have been scheduled for today.
October
SUN
MON
TUE
WED
THU
FRI
SAT
Today's Events
No calendar events have been scheduled for today.