May 12, 2023 at 12:26 p.m.
---
Pebble Creek Golf Course Invite
Chisago Lakes' Andrew Swanson and North Branch' Nichloas Melvin battled it out for the top individual spot on a cold and windy day at Pebble Creek Golf Club in Becker on Tuesday, May 2, but it was Monticello who still came out with the team win in the Mississippi 8 Conference meet.
Swanson and Melvin ended up in a tie for meet medalist at 76, with no one within four strokes of them, the problem for the teams was that the next three finishers were all Monticello golfers, pacing them to the team win.
The two local golfers had identical scores, with Melvin and Swanson both shooting a 37 on the front nine and a 39 on the back nine.
The Magic trio shot an 80, 82 and 83 to round out the top five, and North Branch's Carter Magnison also carded an 83, and teammate Tyler Minke scored an 84. 
For Chisago Lakes, Max Koch and Brock Thompson each shot well, with Koch scoring an 84 and Thompson an 85.
Both teams, though, had a precipitous drop off to their fourth score while Monitcello's fourth was Brady Berhstrom's 86.
Chisago Lakes' fourth score was Joe Alexander's 92 and North Branch's next best score was Drake Dimich's and Ian Smith's matching 94s.
For the team total, the Magic shot 331 strokes while Chisago Lakes and North Branch tied with 337 strokes. Cambridge-Isanti came in fourth with 347.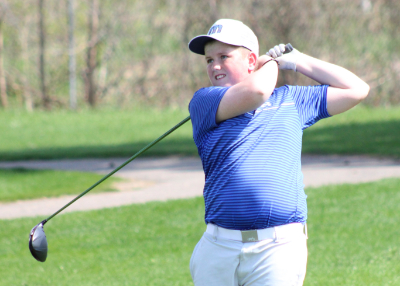 Chisago Lakes Golf Course Invite
The Wildcats were certainly hoping to win their home invite, but four sub-78 scores from Monticello crowned the Magic the meet champs again on Monday, May 8.
North Branch's Minke won the meet with a score of 75, playing well on the first truly sunny competition of the boys' season so far.
Monticello's Brady McGriff and Carter Lemke shot matching 76s in second and third place, and then Brett Hanson carded a 77 for Chisago Lakes, just in front of teammate Andrew Swanson's 78.
But, the Magic's next two golfers came in sixth and seventh with Bergstrom and Quinten Haas carding 78s.
Melvin shot an 80 to finish in 11th place and Thompson and Koch each shot an 83 to finish in 14th and 15th place.
Magnison shot another 83 as the eighth grader has gotten pretty consistent in his game.
Sophomore Joe Froberg scored an 85 at his home course and Dimich scored an 89 for North Branch.
Monticello scored 308 strokes on the day with their top four golfers — their fifth golfer even put up a score under 80, and their sixth golfer scored an 81 — and that was comfortably ahead of Chisago Lakes in second place with 321 strokes. North Branch gathered another third place finish with 327 strokes.
---
September
SUN
MON
TUE
WED
THU
FRI
SAT
Today's Events
No calendar events have been scheduled for today.
September
SUN
MON
TUE
WED
THU
FRI
SAT
Today's Events
No calendar events have been scheduled for today.