September 30, 2004 at 9:04 a.m.
Jennings' name attached to grand jury investigation; lawyer says he's cooperating but no comment is advised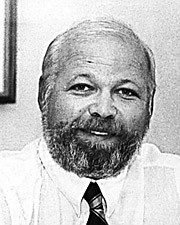 ---
Readers who want to learn more about the investigation of this area's longtime state representative, Loren Jennings will just have to wait. Jennings told the Chisago County Press he wants to talk about the federal investigation, reported in both metro dailies last week, but said, "I have been told to refer all questions to my lawyer Doug Kelley."

Kelley reiterated in his return phone call what he'd told the other papers. His client is cooperating with authorities, but can't answer questions at this stage of the investigation.

Jennings, who served as this area's state representative for about 16 years, did promise that when everything is over, "I'll have a lot to say."

When new House district boundaries were drawn following the 2000 population census Jennings' rural Harris residence ended up within a new district and he lost election.

The StarTribune and Pioneer Press reported that Jennings had been mentioned in a grand jury review of information being developed by the IRS and bank regulators.

A former Minnesota Commerce Department Commissioner testifying before the grand jury told the StarTribune and Pioneer Press there were questions he answered about Jennings relationship with Town & Country Bank of Almelund and about Jennings efforts to promote a grant for a business located in his House district.

The bank was declared insolvent and closed in July 2000.

According to lawyer Kelley's statements last week to the other papers, Jennings had been duped into becoming involved in the loan scam that put the bank under.

Kelley said Jennings was persuaded by the former chairman of the bank board John James, to sign fictitious loan documents.

Indeed, local businessmen were named as loan signers, in the 2003 indictment of James, but Jennings is not named in the indictment.

James, reportedly now residing in Hugo, hasn't been sent to prison yet and is cooperating with the continuing bank regulators' investigation.

He pled guilty in October 2003 to one count of conspiracy to commit bank fraud and money laundering.

Northern Pole, a defunct business formerly located in Shafer, is named in the original indictment of John James.

The metro news items also said there were questions during the grand jury proceedings about Jennings and his advocacy at the commerce department for a half-million dollar state grant, which Jennings wanted awarded to Northern Pole. The $500,000 grant was given to the Shafer firm for a study of recycling opportunities for utility poles.

In count eight under the "money laundering" portion of the indictment, James "knowingly and willfully conducted a financial transaction ...the issuance of a $100,000 check payable to Northern Pole Inc. and drawn on the RiverBank in Osceola."

The check was described in the indictment as being drawn from a personal account belonging to George Vitalis, set up specifically to launder ill-gotten Town & Country loan funds. Vitalis is deceased. He was owner of Northern Pole, according to grant application information.

Town & Country Bank went into FDIC receivership after the non-payment in excess of $2 million in loans exceeded the bank's legal lending limits.

The bank and its branches are now operated by S & C.

The object of the conspiracy was to use the bank to make loans to borrowers who were not creditworthy and that exceeded the limit.

Those who unwittingly signed fake loan documents were referred to as "strawmen" or "nominees." These persons did not receive funds, according to the indictment explanation of events.

The loan funds were being used either to pay off earlier fraudulent bank loans or were channeled into a couple of companies controlled by James' co-defendant in the indictment, Daniel Richmann.

Richmann, of Ramsey, was sentenced in August to 24 months and is to repay $670,930 to the FDIC.

The scam ran from approximately May 1994 to April 2000.


---
June
SUN
MON
TUE
WED
THU
FRI
SAT
Today's Events
No calendar events have been scheduled for today.
June
SUN
MON
TUE
WED
THU
FRI
SAT
Today's Events
No calendar events have been scheduled for today.