February 15, 2007 at 7:45 a.m.
County Board handles park fee policy; jail concept designs proceed, no-wake hearing set for March 21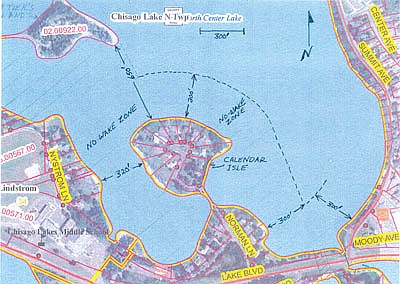 ---
The parks and trails funding policy adopted by the Chisago County Board last week has been a long time-coming. The first review of the policy began in October 2006. Action on the policy was delayed until November 2006, which the county commissioners then tabled again until December 6, 2006.

The policy adopted February 7 had extensive review by township officers, because it lays out how and when the "park fee" --which is collected by the county when subdivisions are recorded-- can be used by townships.

State law allows for 75 percent of these developer-paid fees to be spent within the townships where the plats are located. The remainder (25 percent) is for county appropriation only in county trail corridors and county parks.

What is now official:

~ The new policy allows funds to be used for intra-township transfer for approved projects. This means townships can go together and combine their park fee balances on a project.

~ The policy also requires townships to be notified whenever the Chisago County Park Board is considering a request for release of the park fees. The Park Board serves as an advisory body to the County Board in responding to funding applications.

~ The County Auditor also makes an annual report to townships and city clerks describing funds collected and/or expended.

~ If land acquisition is involved the request for funds must include a licensed, current appraisal.

~ A township application that is approved must see funds dispersed within 30 days from the county.

~ A township funding request form was also adopted as part of this policy.

Lent Town Supervisor Gene Olson, representing the county's Association of Township Officers, commented last week the townships appreciate the review afforded to this policy and commended the desire of the county board to address township needs and concerns.

Under the law the money can not be used for operations or maintenance of facilities or for administrative expenses like appraisals or legal fees. The projects should be identified in plans created by townships and be compatible with the county's comprehensive parks and open space plan.

In other business the County Board okayed the expenditure of $20,000 maximum for three concept designs for a new jail.

Sheriff Todd Rivard requested the authority to fund this concept design phase last month. The Board tabled action until Feb. 7. Jail consultant David Prachar will work with Klein McCarthy Architects on possible layout for three sites.

The sheriff advised that two of the potential jail sites lie within annexation distance of the county seat, Center City. The third concept design, added at the request of a couple county commissioners, calls for building a new jail on the main parking lot at the Government Center.

No wake zone on North Center

The commissioners set a date for a public hearing to consider establishing a no-wake zone on North Center Lake. (See map) The public hearing is during the Board's evening meeting March 21. No wake speed is generally a maximum of 5 mph.

A petition was presented to the County Board by Bud Kapell of Center City and was signed by 42 residents of Center City and Lindstrom requesting the hearing.

There was a no-wake rule for the old channel between North and South Center Lakes. This new no-wake area encompasses the new channel and additional territory.

There are three posted no wake zones on Rush Lake; a no wake zone through Bull Lake (between North Lindstrom and North Center) and during periods of "high water" in order to limit erosion, no wake is in effect on the entire Chisago Chain within 300 feet of all shoreline.

The sheriff's water patrol can ticket violators with a misdemeanor citation.

The County Board learned Public Health Director Bette Friederichs plans to retire in May.

Health and Human Services Director Mary Sheehan told the Board she'd like to advertise beginning in March to give a new director-hiree a chance to work with Friederichs briefly.

A Child Protection Unit interim director was named. Carrie Jakobar will lead the unit until or if Linda Duerkop returns from an extended leave.

There was no action on a resolution submitted by Commissioner Bob Gustafson for Board adoption. The resolution written by Gustafson decreed County Parks Director Laird Mork would "take over scheduling the softball league teams using Ki-Chi-Saga ball fields."

Environmental Services and Zoning Administrator Mary Schmitz said she "respectfully requests the Board to delay" acting on this. She oversees the parks department and said recreational programming aspects for all county properties still needs to be discussed. "Laird is aware this might be an option," Schmitz said, "but it would be a shock if you acted on this tonight."

Commissioner Lynn Schultz questioned how Mork would have time to do this. (Gustafson has frequently claimed college interns are unwilling to provide scheduling, because his services are so time consuming. But, with no contract between Gustafson and the county, as required under state law; there are no details about the actual services.)

Schultz said, "We need to consider the implications." She thought there was going to be more discussion about the county's role in recreation.

County Attorney Reiter reminded the Board that state auditor concerns about Gustafson providing recreation services had been tabled until the February 21 meeting. Reiter said she and staff are fleshing out options to meet legal requirement pertaining to interested officials and she would be prepared to discuss the matter Feb. 21.

The Gustafson resolution was tabled. The vote was 4-1 with Gustafson abstaining.


---
October
SUN
MON
TUE
WED
THU
FRI
SAT
Today's Events
No calendar events have been scheduled for today.
October
SUN
MON
TUE
WED
THU
FRI
SAT
Today's Events
No calendar events have been scheduled for today.