May 12, 2023 at 1:01 p.m.
---
Encore Entrepreneurs of the Year for the State of Minnesota are local business partners behind the Uncommon Loon;  Bradley Klatt, Mark Skoglund and John Cariveau.  
The U.S. Small Business Administration (SBA) celebrates achievements of businesspersons in 10 of the national agencies' regions and the local trio were awarded the recognition during an invitation only event, during Small Business Week, April 30 to May 6.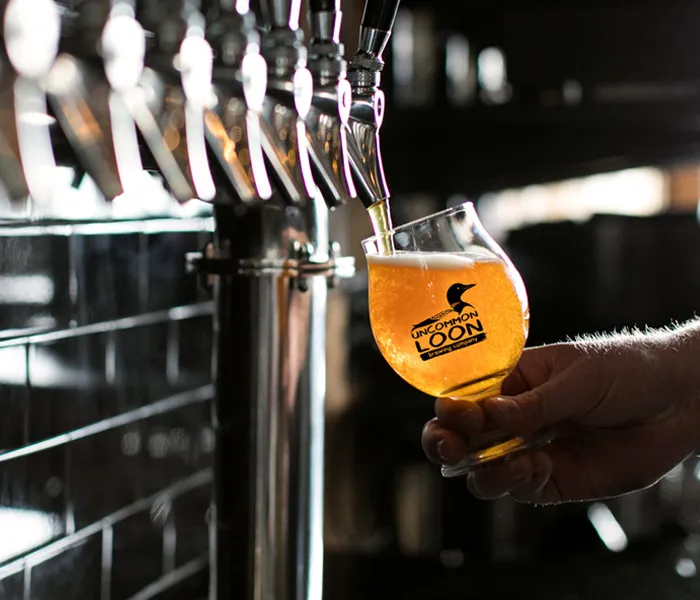 According to the SBA the three partners, "...have truly proved their commitment to the business and their community by working hard through unforeseen circumstances (the COVID shutdown)...there's no surprise then that this business continues to grow and offer more to their patrons."
The Uncommon Loon Brewery in Chisago City began in 2018 with six brewed beers and now there are 16 brewed beers and their own hard seltzers.  Additionally Uncommon Loon distributes to local bars, restaurants and liquor stores.
The Uncommon Loon is housed in the former Chisago City Fire Hall/Community Center.  The fire station was left vacant when a facility was built on Karmel Avenue and the brewery proved to be a perfect re-use for the tall open spaces.  Uncommon Loon contains event rooms for large to medium-sized gatherings and events.  
The award is called "Encore" because honorees are pursuing their second iteration earning a living.  Klatt was a controls and automation engineer for Trane. Cariveau was a  manager for a major grocery store chain. Skoglund had worked for the State of MN in mental health care staffing, facility management and as a counselor.
SBA's Minnesota Director Brian McDonald commented, "More and more workers and retirees are starting their second chapter turning interests, hobbies or skills into a successful small business.  John, Bradley and Mark have demonstrated both courage and resiliency to open Uncommon Loon and be successful," McDonald added.
The business was nominated by the Chisago County HRA/EDA.
---
October
SUN
MON
TUE
WED
THU
FRI
SAT
Today's Events
No calendar events have been scheduled for today.
October
SUN
MON
TUE
WED
THU
FRI
SAT
Today's Events
No calendar events have been scheduled for today.