May 18, 2023 at 3:23 p.m.
---
Wisconsin and Minnesota Departments of Transportation held an informational meeting May 10 at Osceola City Hall.  The meeting was to bring the public up to speed on the Highway 243 Osceola Bridge project.  
The bridge was built in 1953 and reconstructed in 1980, the bridge is nearing it's life expectancy.  The bridge has a daily volume of 6,600 vehicles with 7.5 percent of that being trucks.  The two departments have completed a multi-step evaluation that looked at seven potential alignments, having since been narrowed to three options, with current alignment preferred. 
The first option would involve building the bridge on the south side of the existing bridge. This would require extensive bluff cutting of more than 70 feet.  This option would also require a large retaining wall or walls at the landing park under the bridge.  This option would have the shortest complete closure time.  Both off- alignment options have the same shorter complete closure but longer construction duration by one construction season.
The second option would build a new bridge on the north side of the existing bridge. This plan would require altering of Wilke Falls and Cascade Creek.  It also would require 40-50' retaining walls on the north side. 
Representatives from the departments said this was the least favorable option with which the audience agreed.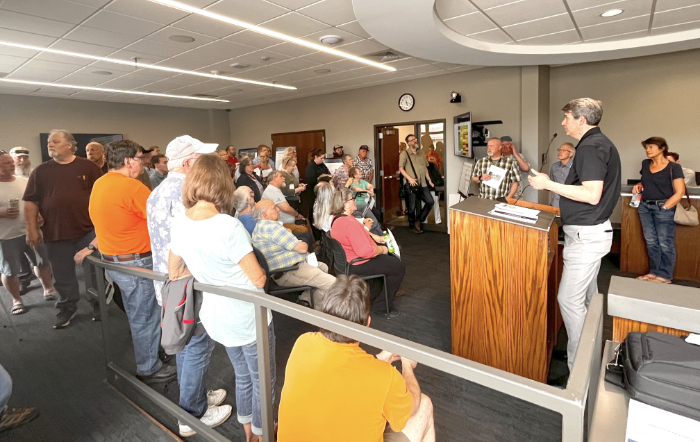 The third option would use the existing alignment of the bridge. 
This would require the dismantling of the existing bridge before beginning construction of a new bridge and would have the longest road closure time. 
This plan has the least bluff and river impact.  Total closure for the road is expected to be 20 months and as part of final design, the team will explore opportunities to mitigate and reduce the closure time, including innovative bridge construction techniques or other methods.
All three designs have the same layout with two twelve foot traffic lanes, two four foot shoulders and a 12 foot bike/walk trail.
Both departments agreed the existing alignment has been the most popular and is also the one they are preceding with.
As for a timeline, this is the first phase of four phases. The next step would be doing an environmental assessment of the project with a final design and permitting expected in 2024/2025. If all goes according to schedule construction would begin in 2026.
If you would like to offer comments on the project please visit www.dot.state.mn.us/metro/projects/hwy243osceola.
---
September
SUN
MON
TUE
WED
THU
FRI
SAT
Today's Events
No calendar events have been scheduled for today.
September
SUN
MON
TUE
WED
THU
FRI
SAT
Today's Events
No calendar events have been scheduled for today.